In Office 365 there are various places where you can have a conversation with a bot.
In this post, I'll share with you where you can find a bunch of them, how they can help with your work, and how far they have come.
Microsoft Teams
From the messaging Microsoft are pushing out, Microsoft Teams is where the focus for conversations with bots is for Office 365 users. The recently announced Microsoft Teams Store allows you to easily see all bots that can be deployed from the Microsoft ecosystem.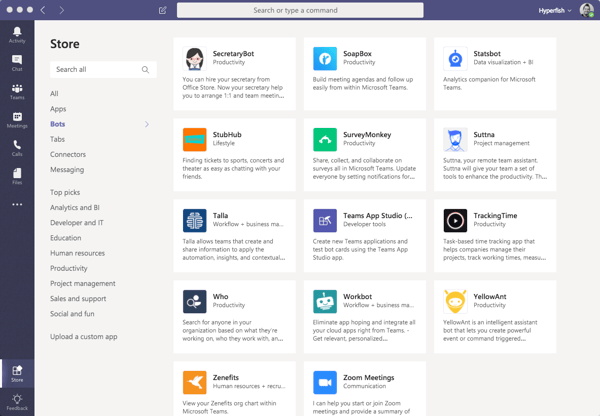 You can chat with a bot in individual chats as well as in a Teams channel. The Who bot is a great example of a free bot, built by Microsoft Research, that I've written about in the past.
One fundamental current limitations of bots in Microsoft Teams is their inability to monitor conversations. Users have to at mention the bot each time they communicate with it for it to respond, even in a threaded conversation with the bot.
Email
For the majority of organizations, as part of the on-boarding process the first thing a user gets is an email account. This is typically the primary channel of communication with an employee from day zero. It surprises me how often people are shocked this is a channel for a bot.
The major benefit for this channel is most users have access to email on their desktop machine, smart phone and tablets, thus giving the biggest reach possible for a bot.
The biggest drawback to using this channel, is this just adding more noise to someone's inbox and likely being ignored. People are currently talking about bots in other channels being a solution to email inbox noise, but eventually, the channels in Microsoft Teams will be just as noisy. I believe that unless these user experiences make it easy for people to categorize, flag or move messages to respond at a later date… email will still prevail.
Something we have found at Hyperfish with email bots, is that users often don't realize that they can reply and have a back and forth conversation in email with them. Its clear habits are hard to break.
Embedded SharePoint Web Part
I'm sure you've been to a public facing web site that has a chat bot embedded in the bottom right. Many of you out of curiosity would have engaged with these bots. I've recently successfully cut the cord to Comcast cable without ever having to speak to a human being.
Many modern organizations, especially in retail and health industry, don't have mailboxes for all their employees. They often don't have a desktop, laptop, or any type of work provided personal device. Microsoft is terming these people "front line workers". In many cases, these employees sign in to a shared computer to access online resources, primarily browser based. A solution for these employees is embedding a chat bot into these browser-based web applications, like the intranet.
Skype for Business
Skype for Business, Lync, and Office Communication Server have been in the enterprise space for a long time now. Instant messages and group messages were its primary functionality originally and this quickly added voice and video calls on top. Later versions of Skype for Business have some bot support through sending plain text and HTML messages. Unfortunately, when Microsoft's efforts focused on Microsoft Teams as its successor for voice and video, this progress slowed to a grinding halt.
This is a great channel for those that want to start a bot strategy who have Skype for Business clients that support it but have not rolled out Microsoft Teams yet.
Yammer
The focus on bots seems to have been eliminated from documentation and messaging for Yammer recently. Although the capability is limited, it has seen success in "outer loop" scenarios. It's worth noting that these aren't true conversational bots, these are more push notifications/one-off responses to individuals or to Yammer Group conversations.
At the Microsoft Ignite event in 2017, Mars Group talked about their Digital Genie Yammer bot. In their scenario, the bot actually monitors conversations for unanswered questions and if it knows the answer will respond.
This use case showed the true power of delivering value with bots where employees already collaborate.
Cortana in Windows 10
Microsoft recently advised there are 145M monthly active users of Cortana, I would assume the majority of this from the Windows 10 desktop. If your organization has deployed or is in the process of deploying Windows 10, there is a huge opportunity to take advantage of handling questions and commands to your business systems.
Out of the box, you can use "Cortana, what's on my schedule?" and it will display what's next today for you based on the calendars you've linked up. These commands can be via voice or text. You can build additional Cortana Skills to integrate your systems into the experience.
There are many scenarios where this will evolve in the future, with conference rooms getting more advanced Microsoft Teams hardware that are voice activated. Cortana is also available on Android and can replace Google Assistant, unfortunately this is not the case with Apple iOS.
It is early days for voice assistance in the enterprise space. As voice recognition improves to be able to identify individuals, the risk of others executing things they shouldn't or accessing information on your computer or work speaker will decrease.
A recent survey by Spiceworks, showed that among a survey of 500 IT Professionals, that Cortana is the most popular personal assistant today in the enterprise. The survey explains that the security and privacy aspect of Microsoft's approach to Cortana have been favorable in the Enterprise.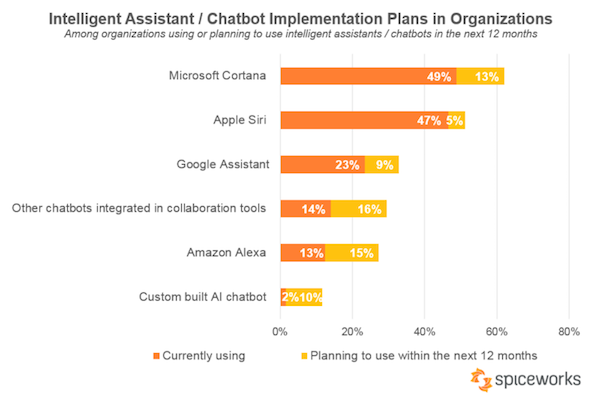 Your own enterprise bot
When making decisions in your enterprise about where to deploy your bot, it's important to understand where your user base is. I've talked to organizations that have gone all-in on Microsoft Teams as the primary distribution channel and seen low usage of their bot. Microsoft Teams is still new and many organizations have not deployed across their entire organization yet. This will naturally impact the adoption of your bot.
Considering other channels to deploy the bot to, will help you eliminate this problem. Some organizations I have talked to have actually used purpose-built bots as the shiny new thing to encourage Microsoft Teams adoption. If you are considering this, just ensure that the success criteria of both initiatives are very tightly linked.
But first Hyperbot
Our Hyperfish Lite service allows you to automatically collect and manage profile photos in Office 365 via our Hyperbot. What's more, it's free!