Like a fingerprint, your business's workflows are unique. They're specific to your process maturity and organizational goals, the efficiency of staff, adoption of IT, and much more. Microsoft solutions like SharePoint a
nd Office 365 have helped us improve the flow of work in our organization; Microsoft Partners have built new solutions on their foundations. This blog explores the history of Office 365 workflow: from humble beginnings in SharePoint Designer to purpose-built process automation solutions.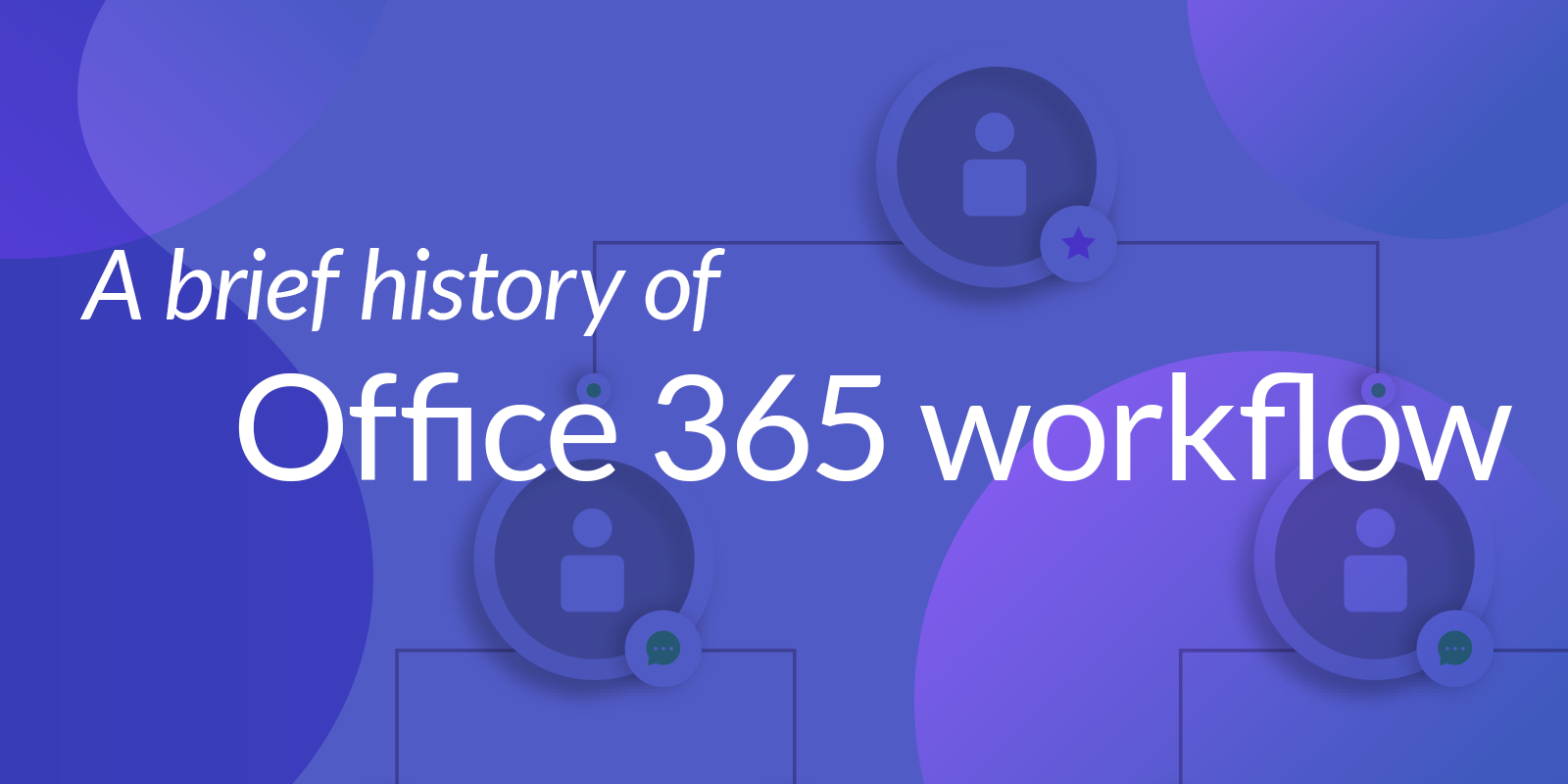 The history of SharePoint and Office 365 workflow
Almost 10 years ago, Microsoft introduced SharePoint Designer 2010 to help users build and customize their own SharePoint sites and applications. It wasn't until SharePoint Designer 2013 that Microsoft brought workflow customization to users on a wide scale. As SharePoint Sites increased in complexity, Microsoft released SharePoint Designer 2013 to allow users not only to build sites, but to build their own workflow-enabled solutions. Since its release, SharePoint Designer 2013 has been the de-facto solution for workflow automation using Microsoft-branded solutions – it is still supported in SharePoint 2019. Microsoft have confirmed, however, that support for SharePoint Designer 2013 and InfoPath 2013 – which focuses on designing, distributing, filling and submitting electronic forms – will end on July 13th, 2021.
InfoPath and SharePoint Designer didn't transition to cloud-based work in Office 365. Instead, Microsoft introduced Flow and PowerApps in 2016. Microsoft Flow gives Office 365 users a simple code-free interface to create and automate simple tasks. PowerApps grants them the ability to create their own web and mobile apps, which can be integrated into workflows. Based in the Microsoft cloud, both applications are updated with new features which you can keep track of on the Flow and PowerApps roadmaps.
Flow and PowerApps have made it possible to tailor digital workflows without coding knowledge, democratizing automation within enterprises. The caveat to such widescale automation is that their functionality remains quite rudimentary. They do not provide the capabilities of the dedicated process management solutions that have since entered the market.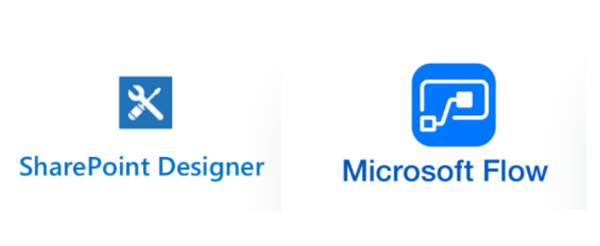 Taking workflow to new heights
Workflow automation has changed our perspective of work: what began as an email being automatically sent from one worker to the next, has evolved into the completion of manual tasks faster and more accurately than a human could perform them. Organizations like Nintex, K2 and WEBCON have witnessed this evolution first-hand to become the leading names in workflow automation – both inside and out of Office 365. Their workflow platforms have grown to provide an end-to-end approach to process automation.
Nintex
Nintex have developed their code-free approach to process automation since 2006. Today, the Nintex Platform is among the most popular and comprehensive on the market. It covers three stages of automation – from process mapping to automation and analytics. Nintex have recently partnered with Adobe Sign to add eSignature capabilities and acquired Foxtrot RPA for Robotic Process Automation. Like Microsoft, Nintex have strived to continually add new functionality to their solution – which began as simply a SharePoint add-on – to provide comprehensive process automation while remaining code-free.
"Since the early betas of Office 365, Nintex has been delivering powerful process automation capabilities to users of the platform. Comprised of process mapping, forms, workflow, RPA, document automation, electronic signature, and deep analytics, the Nintex platform enables customers to manage, automate, and optimize their business processes. What's more, to enable true scale, the Nintex platform was designed to make professional developers more productive, while at the same time, enabling ops professionals and citizen developers alike to solve their problems throughout their own teams and departments. When combined with the Power of Office 365, Nintex enables our customers and partners to drive true digital transformation." Ryan Duguid, Chief Evangelist @Nintex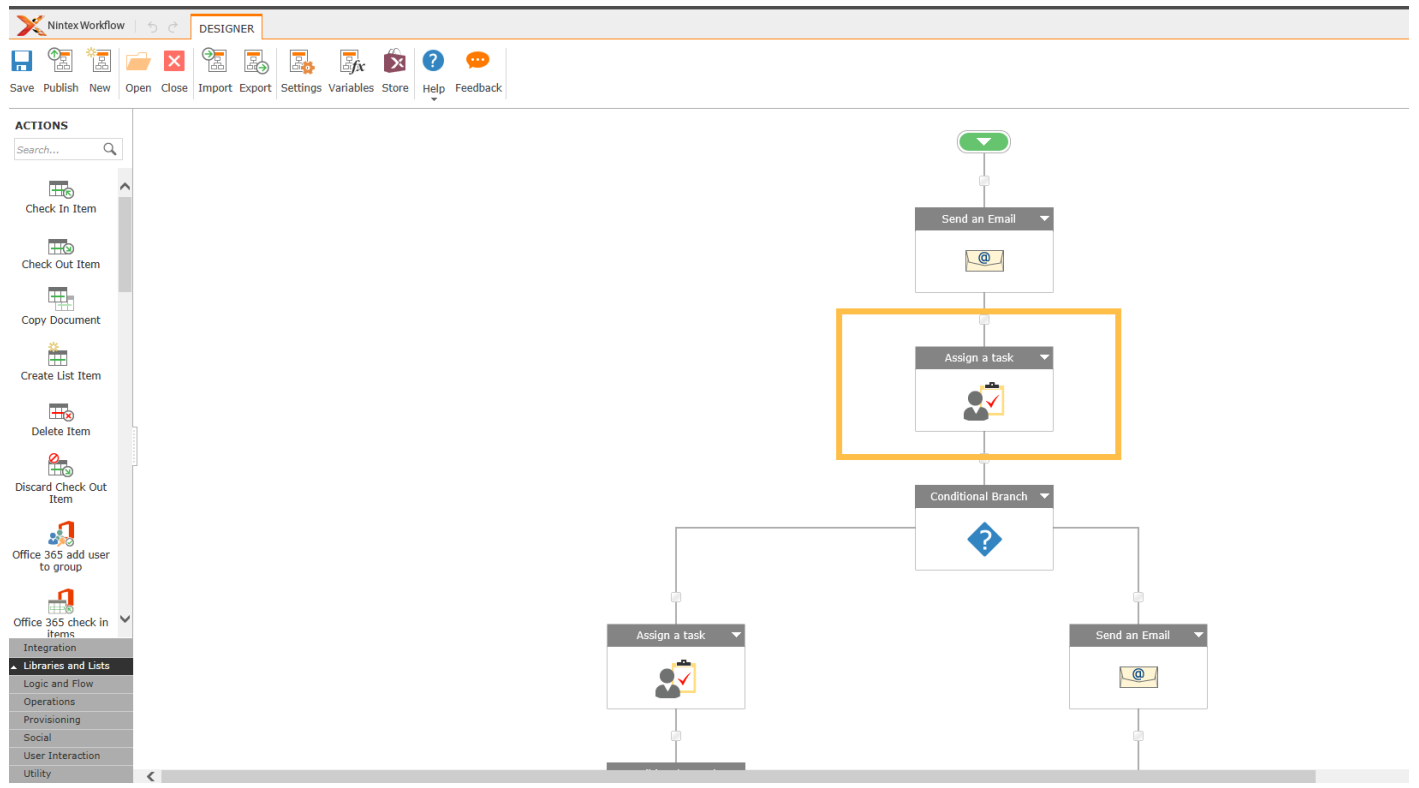 K2
Since 1999, K2 have provided on-premises and cloud-based workflow solutions to users to become a market leader in process automation. The flexibility of the K2 platform offers a purpose-built and comprehensive solution for customers in the cloud. Users that remain on-premises still have powerful automation, forms, analytics and more available to them.
WEBCON
Headquartered in Poland and now moving into the North American market, WEBCON is defined by its WEBCON BPS platform. Powered by SharePoint, it is a rapid application development (RAD) platform with workflow and forms features to help users create applications and processes through an agile, no-code approach.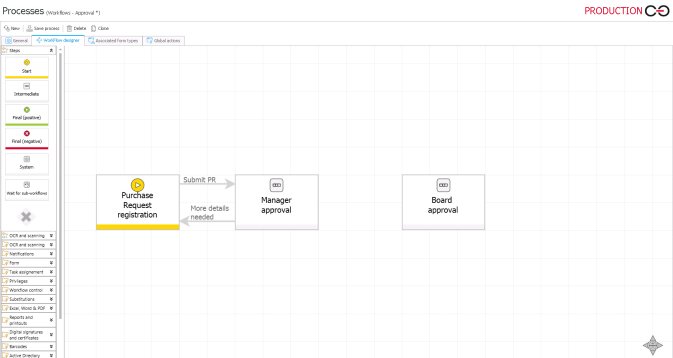 The future: what lies beyond workflows?
As workflows become both more intelligent and ubiquitous and the industry continues to grow, companies have begun to specialize in targeted areas of workflow automation.
Process modeling
Process modeling is the practice of creating a visual representation of an organization's processes. It has been transformed by the intelligent digital tools available today – mapping out processes using a flowchart or a Gantt chart can reveal previously hidden dependencies or bottlenecks, making it a very valuable practice.
FireStart, a business process management suite, provides a user-friendly interface for enterprises to get started with process modeling.
"While some level of workflow automation can be achieved with SharePoint and Office 365 tools like PowerApps, the former is very limited in terms of end-to-end process capability, and the latter is extremely complex and requires developer-knowledge to use. FireStart solves both problems by taking the Business Process Automation out of SharePoint into a purpose-built, dedicated, user-friendly BPM application that can then integrate not only with SharePoint and Office 365, but all the other enterprise software and services that a company uses, allowing for a truly centralized process management and automation platform." Shyamal Addanki, VP North America @ Firestart

Nintex Promapp, offers visual collaboration and process management capabilities to help organizations better automate, orchestrate and optimize all business processes.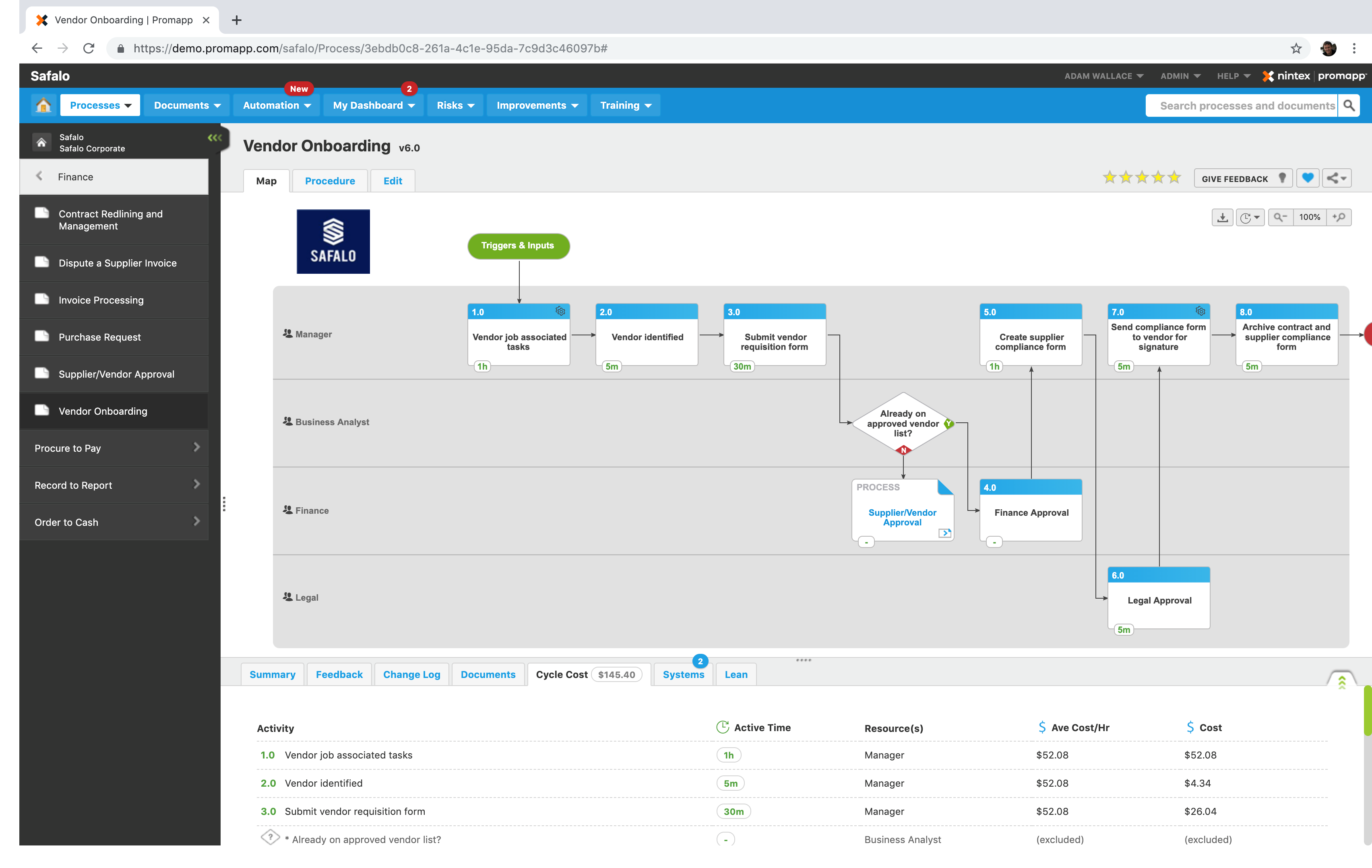 Process intelligence
Process intelligence is the practice of analyzing your existing workflow to monitor their efficiency, adoption, and more to determine whether they are working. Process intelligence can be as simple as surveying users on how often they use a workflow, or as complex as using data analytics to track the minutiae of delays within a workflow. In either case, process intelligence is vital to the continuous improvement of business workflows.
Application development
Application development solutions give users the freedom to meet their specific business needs, solve problems, innovate and build new workflows without the help of the IT department. Not only does this increase their agency within their workplace, it also frees up time for their IT department to complete higher value tasks.
Software like NITRO Studio makes application development easy and accessible for users in Office 365 and SharePoint.
"Our NITRO Studio gives SharePoint on-premises and Office 365 users the ability to easily create applications that automate processes and improve services to employees and customers. SharePoint and Office 365 are powerful tools for any business; with NITRO Studio, organizations can get the most out of these platforms by building forms and workflows that modernize their everyday operations." Scott Restivo, CEO @ Crow Canyon Software


The people behind the processes
Workflows have transformed how we get work done; the solutions we use to create, customize, and manage workflows have seen equally dramatic change. But without the correct information – regarding both the data in the workflow and the people performing the work – workflows can be set up to fail from the start. Irrespective of the sophisticated tools organizations use for workflows, they must first ensure that their people information is accurate and up to date.
Our next blog in this process automation series will discuss which common workflows require proper people information to effectively automate processes. To find out more about why people information is vital to the success of your workflows, contact us today.