As mentioned in our previous post, there is a clear focus on Microsoft Teams when it comes to bots in Office 365. The Microsoft Teams store that was launched only in March 2017, is the easiest way for you to get started with bots in Office 365. The store already features over 50 bots ready and waiting for you to add to your tenant.
In this post I'll run through some great examples of Office 365 bots, what they do and what benefits they could bring to your team.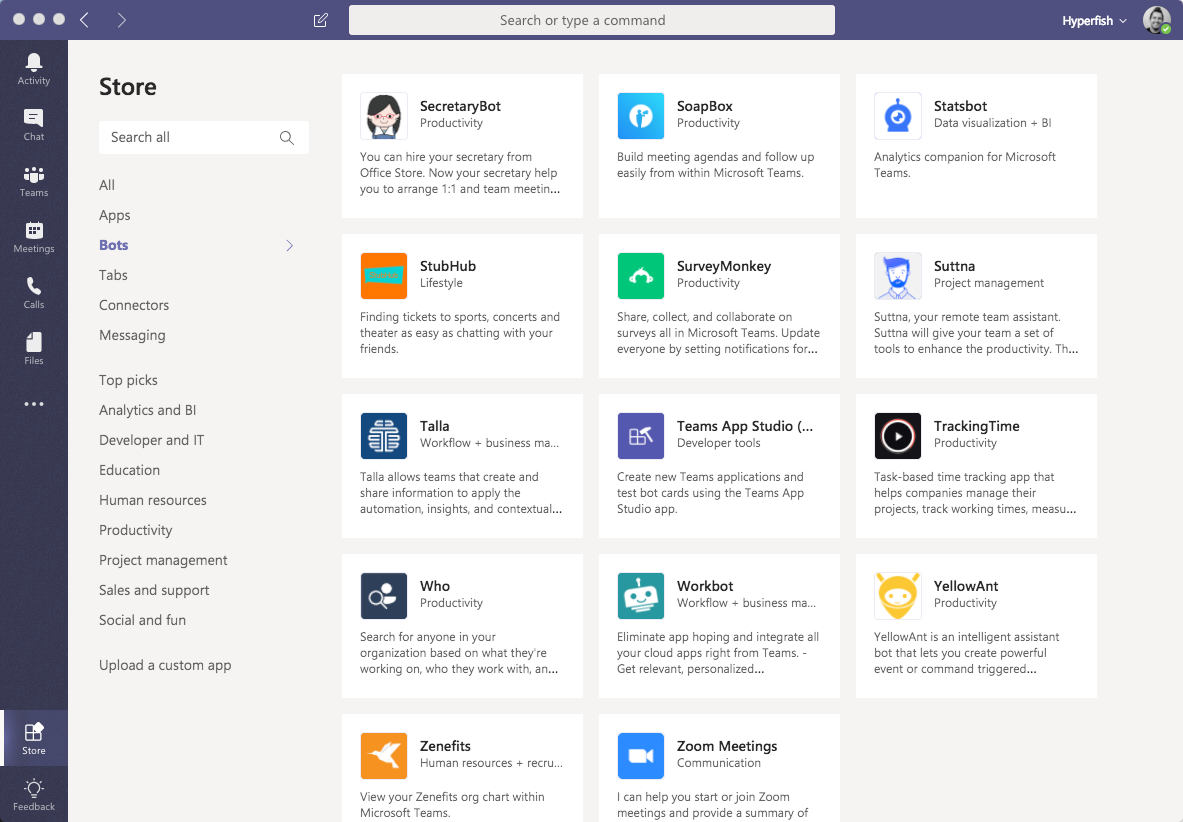 Disco (formerly GrowBot)
The Disco bot allows you to give kudos to your colleagues in a Microsoft Team channel. The Disco bot keeps a track of the individual messages as well as a kudos count. There is a 30-day free trial available too. This bot is a great example of a very simple social bot, that can encourage more team interaction and can support existing team feedback processes.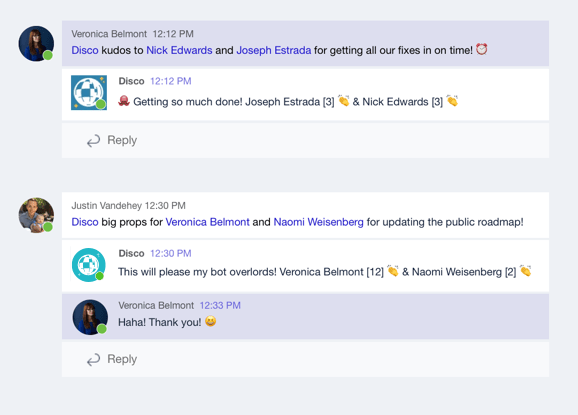 HipMunk
HipMunk is your personal travel agent that you can chat with directly inside of Microsoft Teams. You can write a message in a conversational format, much like you'd expect to have with a real travel agent. For instance, "I need a cheap, non-stop flight to Las Vegas May 21-23 departing after 11am." As the screen shot shows below, it will follow up with questions like where you are departing from. A benefit of the Hipmunk bot is that it will proactively reaches out to you in the future to let you know if there are any deals or discounts on the flights you searched for.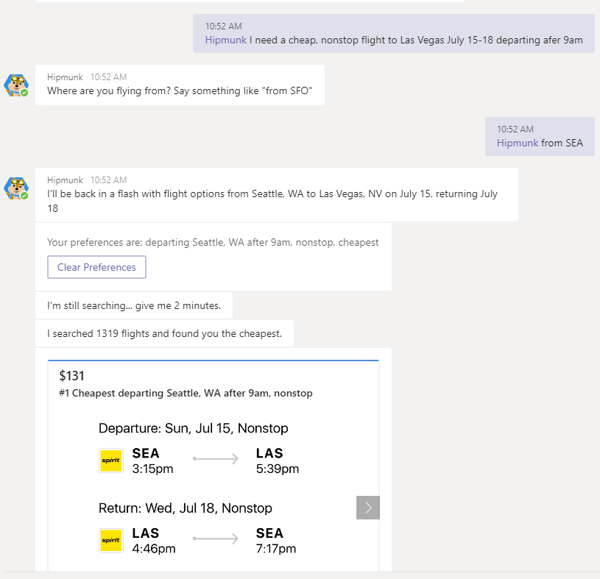 Polly
Polly allows you to very quickly create polls inside your Microsoft Teams Channel with a nice real-time graph to show how the polling is going with members of the team. It is a great way to capture structured data back rather than having to do manual work based on free-form text message responses.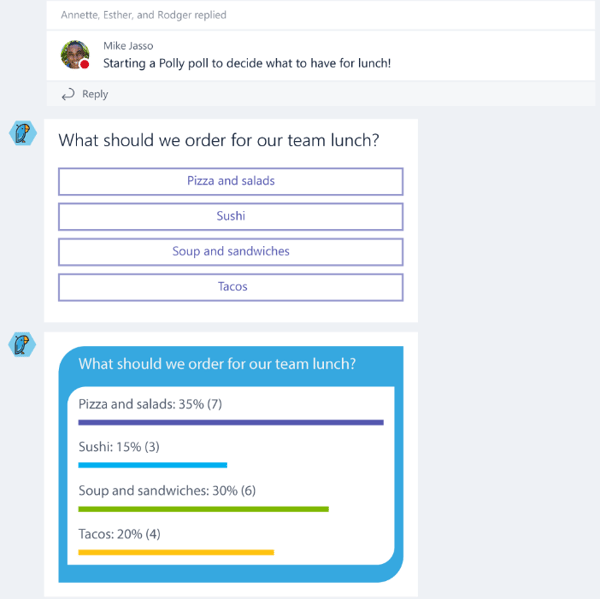 Leo Bot
The Leo bot from OfficeVibe engages with managers in your organization who add the bot directly to the chat area. It will regularly reach out with tips about how to be a great manager and provides links to supporting resources. This is very much a one-way chat in its current release but is super useful. It is a great example of how any team could communicate and share information as part of an onboarding flow with an employee.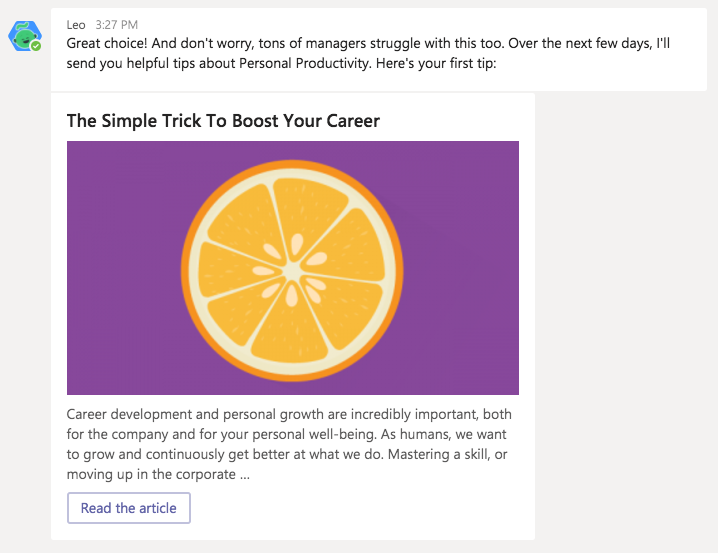 Coming soon to the Teams Store …
As stated, there is 50+ bots already in the store and these numbers are only growing. Keep an eye out in your own tenant for brand new bots to help your team collaborate.
Like our own employee self-service bot, that is coming soon to a Team store near you ;) The Hyperfish employee self-service bot connects employees quickly and easily to people, resources they need.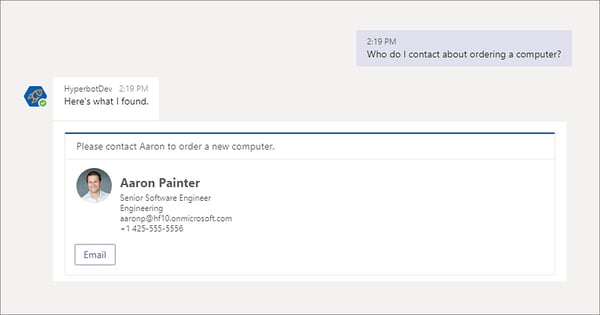 Our employee self service bot reduces the time employees spend searching for information to do their job done. New employees are supported by the bot through access to HR policies and processes like leave, benefits, and payroll via chat. Find out what else is possible ....