Organizational charts are essential to every business, improving internal structures and aiding communication. They can help:
Improve collaboration and communication across teams and the wider business
Improve information flow and the responsiveness of teams
Define clear business structures, hierarchies, roles, and responsibilities
Assimilate new staff into their workplace
In this post, we explain why companies large and small can benefit from organizational charts, and how different areas of the business can benefit from them too.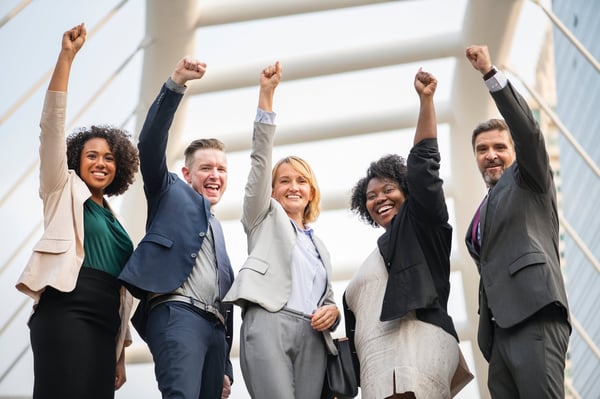 Org charts: what, why, how?
Organizational charts (also known as org charts) are designed to detail the structure of your organization, with information like users, roles, and contact info that's regularly updated for accuracy. Modern org charts include added functionality like artificial intelligence and bot technology to automate the collection of profile information from integrated services.
Some small to medium sized businesses might choose to omit org charts if they think their employee relationships are clear to see. But these charts do more than just outline work-based and customer-facing relationships. Creating an organizational chart can:
help workers find colleagues quickly and easily when they need them
reduce the risk of accidentally sending files to someone who doesn't have permissions
With automation, reduce the manual administrative work required to keep org charts updated as companies grow and evolve
These best practices are much easier to cement when your organization is 'young'. So, whether you're an organization of 15, 150, or 15,000, organizational charts can make a real difference. In the same vein, many different areas of the business can benefit from their own org charts.
Multiple roles benefit from organizational charts
Up to date profile information is crucial to an engaging user experience. Organizational charts should empower employees to take control of their profile data, essentially crowdsourcing the upkeep of personal data. This removes the burden from IT, without neglecting the focus on control, privacy, and information governance.
It's not just end-users that benefit from org charts. Let's look at other areas of the business that can use organizational charts to improve their business functions.
Management: Org charts can help with organizational restructures like switching team roles, addressing performance problems, and expanding or downsizing due to business mergers and acquisitions. In a restructuring, org charts help you map out the moving parts: identifying existing and future roles, hierarchies, strategies, goals, and more.
Finance: Consistency is essential to accurately allocating costs and expenditure in financial reports. An organizational chart will clearly define the teams and individuals in the financial department, helping them understand their roles. With everyone on the same page, you can avoid the typical back-and-forth that accompanies information gathering (whether on paper documents, or email threads).
HR: For HR managers, org charts give visibility into which roles need filling in the organization, and even possible areas for new roles. Org charts also benefit the employee onboarding process. They clearly communicate how the organization is structured, and they give employees confidence that they can ask the right questions of the right individuals and know who to turn to for help.
Project management: Org charts help employees see who they should contact when they need information. For project managers, org charts can aid visibility into how teams are distributed and how resources are allocated, making it easier to see potential problems that need to be fixed.
Different organizations, similar infrastructure
The ability to dive into different departments and see where individuals fit into the bigger picture is vital for any type of organization. Here are some of the ways that org charts can benefit not just corporations, but all manner of organizations:
Non-profits (e.g. schools, churches): Org charts help structure the roles and responsibilities of teams that carry out activities for non-profit organizations. They also help members identify and respond to changing personnel needs whenever necessary.
Government departments: When compliance is as crucial as it is for government organizations, structure and routine must be paramount. Government org charts visualize a clear chain of command, improving communication across departments.


Healthcare: Hospitals typically have a 'divisional split' between administration and medical functions. Decisions about patient treatment flow upward in the medical hierarchy, while decisions regarding business functions (i.e. marketing) flow upward through the administrative hierarchy. Org charts define and map these hierarchies, so they only overlap when necessary.


Construction: Split between onsite work and work in factories and offices, construction is typically completed by a variety of individuals and teams with differing roles and specializations. Org charts in construction can clarify channels for communication and both internal and client/customer-facing responsibilities.
For all the structural nuances that differ between organizations, many work on the same platform. Office 365 is the most popular enterprise cloud platform on the market – 80% of Fortune 500 companies use the platform.
While every company is different, many function on the same public cloud infrastructure. This is the binding agent that can help organizations of any size and function benefit from modern organizational charts.
Hyperfish organizational charts
Organizational charts are for everyone. So, it makes sense to start with you—the user.
Hyperfish works with Office 365 to connect users and share information on the platform. It uses AI and bot technology to automate the collection of profile information, ensuring consistency and compliance across Office 365. Hyperfish is automated, user-friendly, and secure, so both Office 365 end-users and administrators can get the most from organizational charts with the least amount of effort.
Succeed with org charts in Office 365 with accurate profile information. Get started with Hyperfish Lite today for free!