At Hyperfish we're often asked the where the people information comes from that is displayed across Office 365. We have put together a knowledge base article on this in the past. In this article I wanted to share a little more context on it.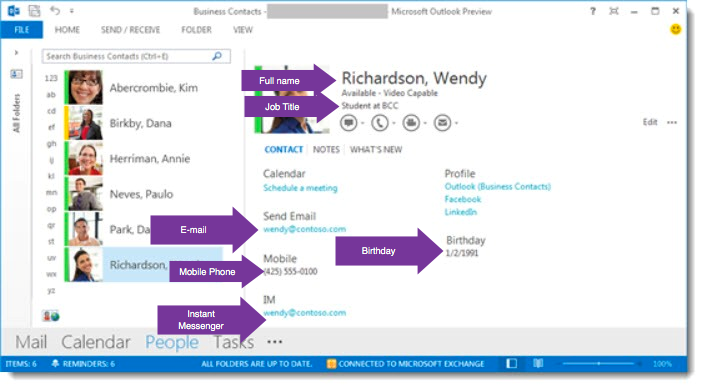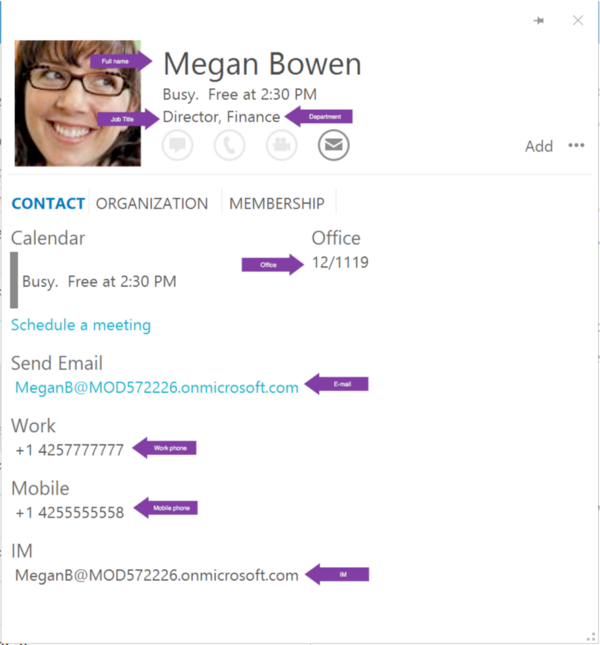 Profiles information in Outlook, Skype for Business, and Microsoft Teams
There are many experiences in Office 365 (and on-premises products) that show people information. These include: SharePoint, Outlook, Delve, Skype for Business, Microsoft Teams, Office client apps, Yammer and many more.
Profile photo experience
Profile photos are extremely useful for employee engagement in organizations. Having profile photos across your most used application, like Outlook and Skype for Business can be extremely useful when walking around the office, or even visiting other offices to have context of people and what their role is. It helps organizations with improving the culture and promote cross team collaboration and socialization.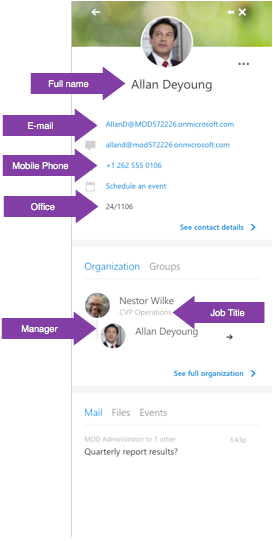 Contact cards in OneDrive and SharePoint
There are many places where your profile photo is displayed and unfortunately they do not come from the same source. Office 365 has some synchronization technology between the sources where photos are stored. Unfortunately if you update your profile photo in Delve, it can take up to 72 hours to update the larger photo in the Delve profile, but immediately updates the one in the top right log in area.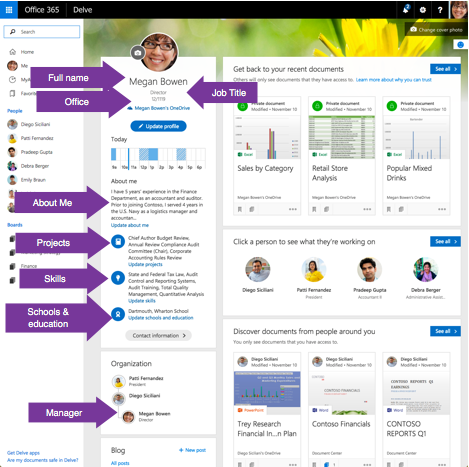 Delve User Profile Page
One of the main reasons for this confusion, is because Office 365 is a combination of products run by different engineering teams at Microsoft. These teams were brought together to deliver a single Office 365 offering, but with an on-premises standalone product AND a multi-tenant service, some inconsistencies are inevitable.
The table below explains the source for each Office 365 Profile photo.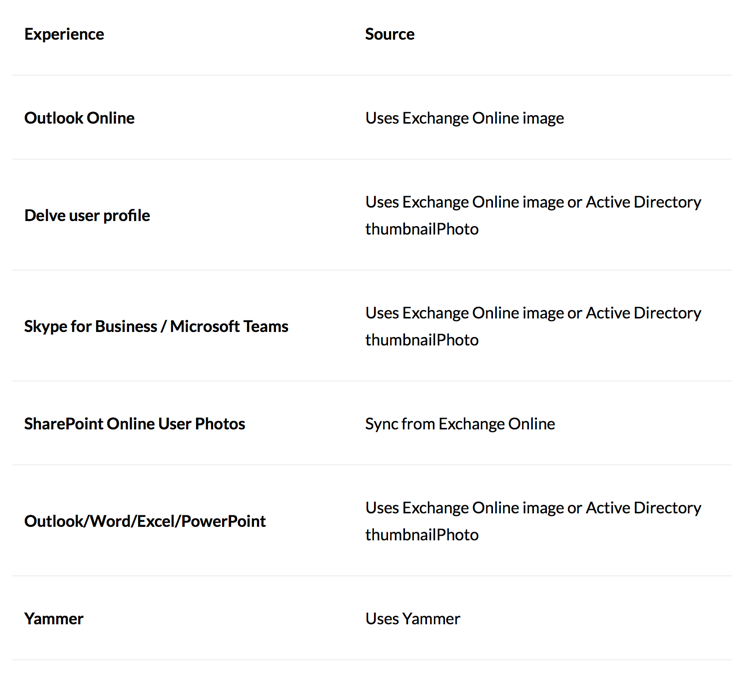 Profile Photo sources across Office 365
There is also different size recommendations for each of the profile photo storage sources as outlined in the below table. It is important if you are going to update these directly that you take account for the different sizes.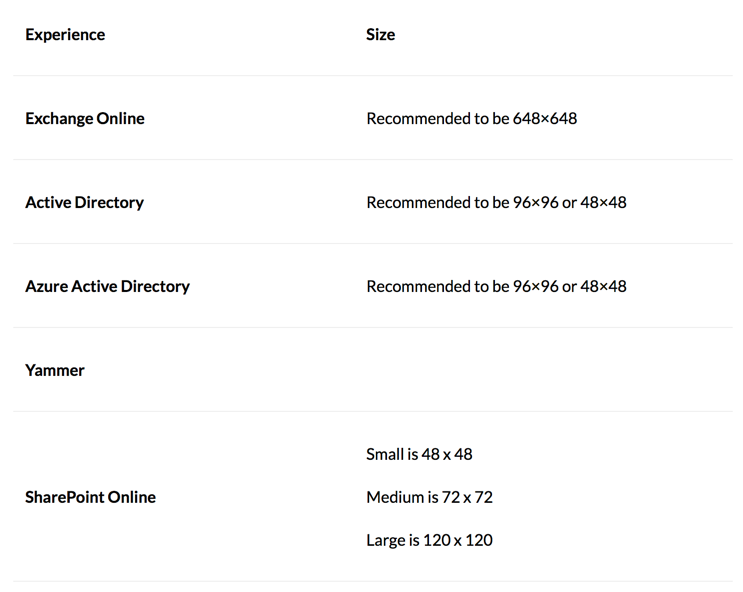 Profile Photo size recommendations across Office 365
Manager attribute
The organizational charts available in Outlook contact cards, Delve and Microsoft Teams are extremely powerful resources for people discovery in an organization. Employees will often want to find a peer of someone that is out of office or has left the organization; likewise they may want to determine someone's manager to escalate a task or matter with.
As people move in, out and within an organization, it's quite common that manager attributes need updating to keep up. It is an expectation of employees, that the organizational charts change once the attribute is updated in Active Directory (AD) and then Azure Active Directory (AAD). Delve actually uses SharePoint Online (SPO) User Profiles as their source, so you then have to wait up to 72 hours for these changes to be reflected.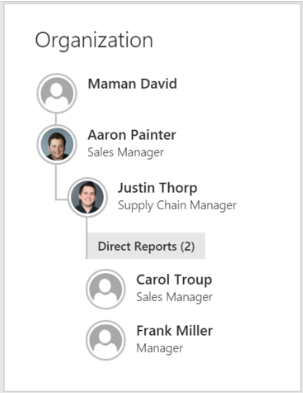 The default organization chart on a Delve user profile
The majority of organizations that we talk to are using a hybrid set up with Active Directory and use Active Directory Connect to synchronize the changes between AD on-premises and AAD. This adds yet more time lag to updates being visible across your Microsoft applications.
Microsoft has a MSDN article that lists all the attributes in the Windows Address Book. But there isn't a definitive resource that explains where profile information comes from for all of the Office experiences such as Delve.
We worked hard at Hyperfish to supercharge the synchronization and update all the profile sources at once (AD, AAD, SPO). One thing that we have noticed is that there is an additional delay in Delve for manager attributes, due to using the Office Graph for updates to Delve. This process is documented within this MSDN article and this support page. There is a Search Index that is used for Delve, and in multiple environments we've consistently proven that it takes up to 72 hours to update this information in the index. This is certainly something to be aware of so you can set the right expectations within your organization.
"Every 24 hours, people information from the Windows Azure Active Directory is automatically added to SharePoint Online user profiles." MSDN article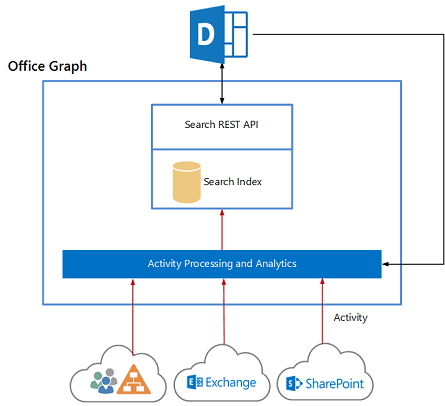 Diagram outlining the Search index.
Wrap up
With the acquisition of LinkedIn, I can only imagine the extra layer of complexity this has added to identity and people information in Microsoft. I expect Microsoft to improve this experience in Office 365 for administrators and end users in the next year. We will keep close to the pulse on this and deliver technology and resources that make it super easy to update profile information, no matter where it is stored, to improve your Microsoft experience.
Hyperfish Premium helps you collect all this information off your users in a streamlined way. You can get started Hyperfish Lite for free - to collect and manage your employee's Office 365 profile photos.