Introduced two years ago, Microsoft Teams is Microsoft's intelligent communications and collaboration solution. It has grown to become a key part of the Office 365 productivity platform – dubbed as 'intelligent communications', it's the go-to app for workers to share information and collaborate.
A free version of Teams is available, but it works best when it's used within Office 365. Teams offers integration with most Microsoft apps, giving workers a more streamlined experience. It is also built with an open application programming interface, so it can be integrated with more than 100 cloud-based partner apps.
Microsoft Teams is currently in the process of replacing Skype for Business as the primary communications hub within Office 365. For instance, meetings scheduled in Outlook are now available in Microsoft Teams rather than Skype for Business.
The 2018 SharePoint & Office 365 survey, conducted by Hyperfish, Sharegate, Nintex and LiveTiles, has just closed, and this year's results have provided valuable insight into how businesses are using Microsoft Teams.
Teams is the perfect group messaging platform for businesses operating in the Microsoft ecosystem. But how have Office 365 users adopted it?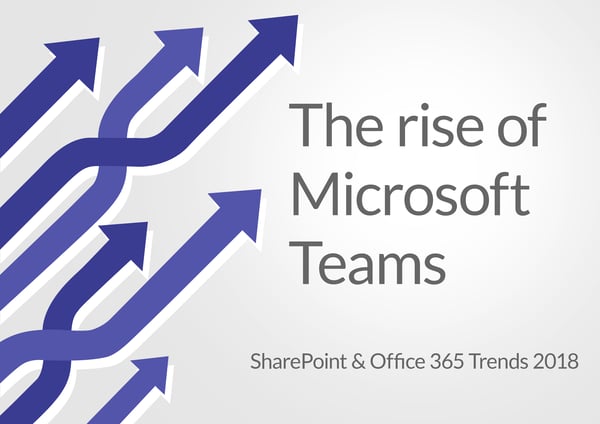 The growth of Microsoft Teams
Since its introduction, Teams has achieved huge growth in comparison with other established Microsoft services. 62% of businesses surveyed are using Teams, up from 41% in 2017 and that number is set to increase.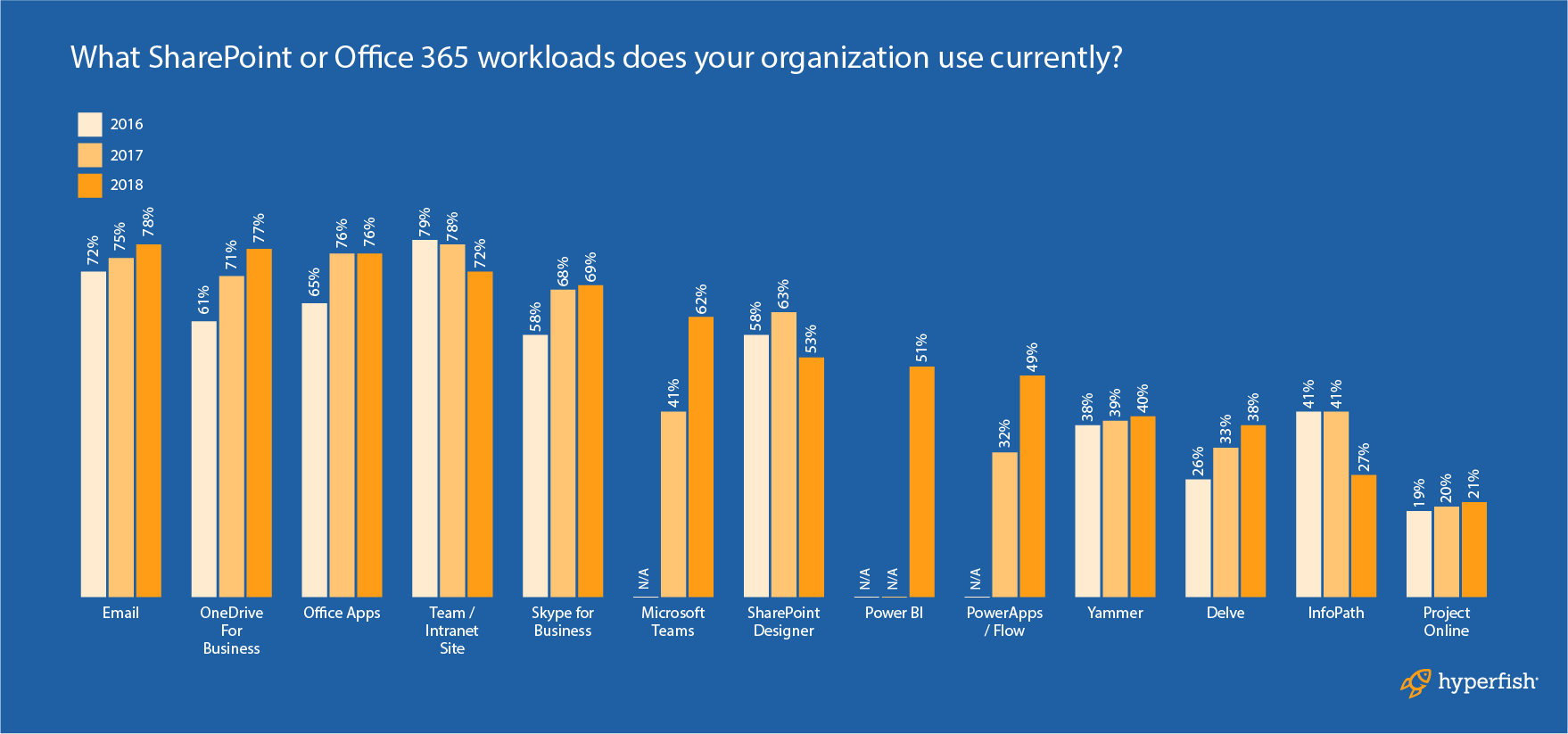 This indicates a need for instant messaging in the enterprise that is only likely to increase in the future. Modern workplace trends are moving towards flexible and remote working – where employees need tools that allow them to communicate quickly and informally with their colleagues anytime, anywhere. Also, employees are used to communicating through instant chat in their personal lives and expect to be able to do the same at work.
As software like Teams becomes more sophisticated, it can be used for the kind of real-time team management that can only exist online. From within Teams, workers can schedule meetings and video calls, directly message individuals and groups, and share files from OneDrive, SharePoint, or other external sources. From its sleek UI to its ability to include 250 individuals in a video call, it's the most elegant team communication software available on the market.
The survey also asked which Microsoft workloads respondents were planning to use moving forward. This year, half of businesses surveyed (50%) said they'd will be using Teams, making it the second most popular application behind PowerApps and Flow.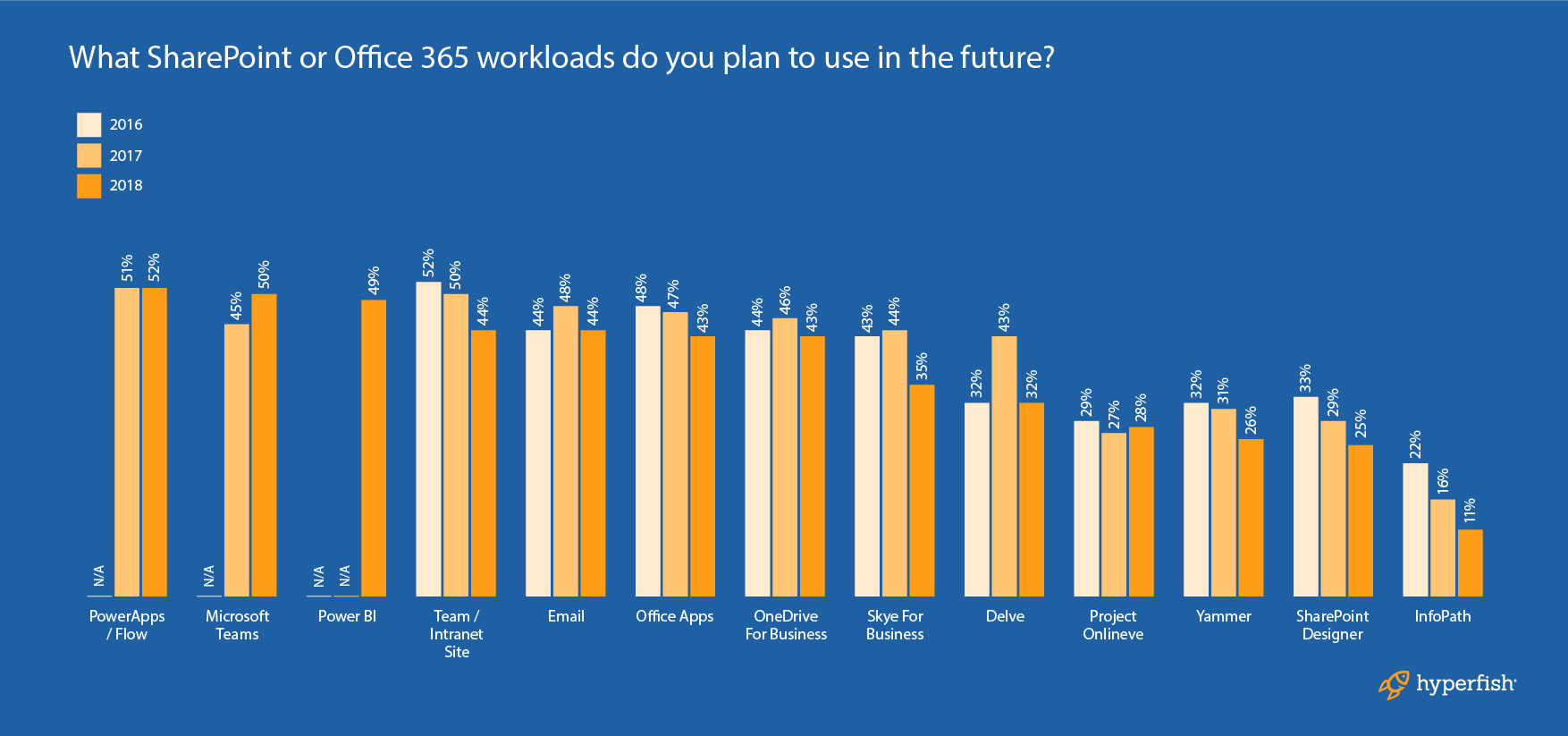 As it stands, Teams is a very widely used application. In fact, 91% of businesses we surveyed working in Office 365 are using Teams. It makes sense that its adoption rate would be so high, as it is the part of the Microsoft ecosystem that connects workers and lets them share their work. As group messaging has become more ubiquitous, Microsoft has clearly found a way to embed it into a productive workflow. It's a powerful app which makes group communication simple, offering file sharing for collaboration.
The future of Microsoft Teams
So, why is Microsoft Teams so popular?
Teams provides an excellent user experience that any business can easily adopt, and it offers team members a way to communicate that helps to develop inter-departmental relationships – it's personable and conversational in a way that email can't be. What's more, file sharing is optimized for collaboration, with team members able to edit Word, Excel, or PowerPoint files directly with Teams. As Teams replaces Skype for Business, it'll become the destination for communication for over 200,000 enterprises.
Microsoft Teams and team management
Another key aspect of good communication between teams is up to date personnel records. Without thorough and current information, confusion can be caused by a lack of visibility of team structures and individuals.
Our survey found that most businesses rely on their Outlook Global address list to find employee contact information. This is a process that is vulnerable to inaccuracy, because updating an Outlook Global address list is a highly manual process.
Microsoft Teams uses Outlook Global address list to create worker profiles, but these are often only being evaluated and updated by businesses on a monthly (19%) basis or, alarmingly, never (27%). With this lack of dedicated effort to maintaining high quality employee records, communication will be more difficult between teams. This will also pose a threat to the effectiveness of group chat software like Microsoft Teams.
At Hyperfish we want to help you increase visibility of your team structures and improve communication. That means being able to know who is working on which projects and who has the information you need – something that's made even easier with group chat. We expect Microsoft Teams will only grow in popularity and become even more integrated with other cloud-based apps. For this to be feasible though, more care will have to be taken to keep employee information up to date.
A tool like Hyperfish can ensure the effectiveness of Teams because it automatically prompts users to update their profile information within Office 365. With high quality employee information, teams can find each other and communicate quicker and easier.
Look out for more blogs about our other survey findings on SharePoint and Office 365 in the coming weeks!
Start your Hyperfish journey today to optimize your employee directories and increase employee engagement. Get Hyperfish Lite for free to manage all your missing profile photos in Office 365.