The horror stories of SharePoint custom development when it comes to upgrading to 2007, 2010 and 2013 and SharePoint Online, has turned organizations to buy versus build.
Intranets in a box is an area of significant potential for SharePoint Partners building both product and offering implementation services. It is a great way for customers to accelerate the building of their Intranets without long custom development cycles. The solutions give "plug and play" solutions for things like news publishing, personalized content delivery, advanced navigation, third party dashboards, branding & themes, mobile apps, social features, analytics and much more.
Partner agility
SharePoint is currently adding this Intranet type functionality, but slowly because of the considerations of existing SharePoint Server customers, as well as net new customers on SharePoint Online. Also they have totally reset their front end user experience with the SharePoint Framework. The benefit of partners is their smaller focus and agility they have over larger engineering teams within Microsoft.
In the time it has taken to progress from SharePoint 2013 to SharePoint 2016 there are over 30 partners that are building these types of solutions which are much richer than those provided out-of-the-box.
I still think the best example of this is Nintex, who after nearly ten years in the business, still have the edge over Microsoft's out-of-the-box workflow offering. Partners will always have to accept being one step ahead of the out of the box experience, but there is a huge market out there for them.

SharePoint intranets in-a-box report by ClearBox Consulting
Sam Marshall, from ClearBox, has authored a great report that I discovered through LinkedIn. The report reviews in detail 26 partner solutions across eight scenarios. If you are in the positioning of looking at purchasing a Intranet in-a-box , I would highly recommend investing in this report to save you the pain later on.
SharePoint developer model changes
Whilst I was at Microsoft, I worked on marketing the SharePoint Add-in model. My role was to encourage people to move off of Full-Trust Solutions and Sandboxed Solutions. Vesa Juvonen headed up the Office 365 Developer Patterns and Practices (P&P) initiative that really did drive the way here.
In 2015, work started on the SharePoint Framework, a successor to the Add-in model. This week it has gone into Release Candidate 0; the release notes highlight some breaking changes from previous released preview packages.
The thing to keep an eye on, is whether this Framework provides the level of customization that was provided by previous models. The SharePoint Add-in model had limitations (sometimes filled by P&P samples) and meant that organizations stayed using Full-Trust solutions. It will be interesting whether people continue to stay there to achieve the customization they want with SharePoint Server.
The risk to Microsoft here is that if they don't use the Add-in model or Framework, customers cannot migrate to SharePoint Online.

Go listen to the Hyperfish Podcast for more info…
Adoption of new Framework is key
There are already many Intranet in-a-box partner solutions that have not bet on the SharePoint front end (Add-in model) and have built their own. They interact with SharePoint through the APIs, luckily the API contracts have not changed over the years and provide a less risky approach.
Partners will certainly benefit from building on top of the SharePoint Framework and what it gives as a baseline of functionality and integration into out-of-the-box front end user interfaces.
The Framework leverages a full client-side rendering approach. In principal a lot of the Partners have already taken this approach and could re-architect their solutions on the Framework.
There would have to be a lot of value in the Framework that they haven't already built. Plus a demand from customers using SharePoint Online to run their Intranets in the cloud over SharePoint Server to make this a viable option for Partners to invest the time and effort.
This is SharePoint's fourth developer model. For Partners that have been in this space throughout all of these, I fear some will hesitate to invest in yet another model.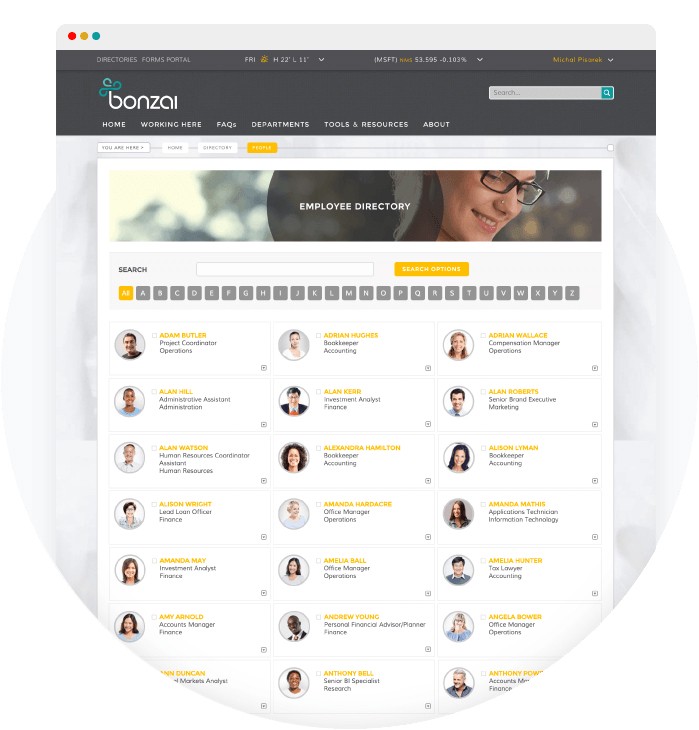 Bonzai Intranet's People Directory pages
People information is key
In working with a lot of the Partners building Intranets in-a-box at Hyperfish, we have realized that people information is key. Without employees' office location, department, and skills, it is impossible to personalize the Intranet experience for organizations. This is where Hyperfish comes in.
Moving in the right direction
The good news is that there is a lot of energy around SharePoint and especially this new Framework. The management teams that own SharePoint & OneDrive at Microsoft understand that SharePoint was extremely successful because of its extensibility.
The extensibility allowed Microsoft partners (Nintex, AvePoint, Metalogix etc.) to build software to fill gaps in the baseline product and also allowed organizations to build custom solutions on top of SharePoint.
The whole power of SharePoint has definitely been redefined with the introduction of various other services into Office 365 (Microsoft Teams, Yammer, Groups in Outlook etc.). It will be interesting to see how SharePoint pivots in the next year.
I really look forward to seeing what Microsoft do with the extensibility of the whole of Office 365. I believe the Modern Pages functionality with the power of Web Parts can really be a game changer. As mentioned in my post on the future of Microsoft Collaboration is Microsoft Teams, I think if SharePoint Modern Pages can become the UX framework for all of Office 365, the product will be in a great strategic position within Office 365.