At Hyperfish, we are proud to share the success of our customers realizing complete and up-to-date profile information in Office 365.
Office 365 is often a gradual rollout in most organizations, the first phase most commonly being Exchange Online. After the success of moving corporate email boxes into the cloud, the next step for many organizations is to look at content and unlocking the value of applications including Delve, Teams and SharePoint. If you want a successful roll out and to realize the full capabilities of Office 365, it is important to treat complete and up-to-date profile information seriously.
People information, like profile photos and contact cards form a large part of the user experience of Office 365. The user experience is severely hampered and the user interface is compromised when you have silhouettes for profile pictures.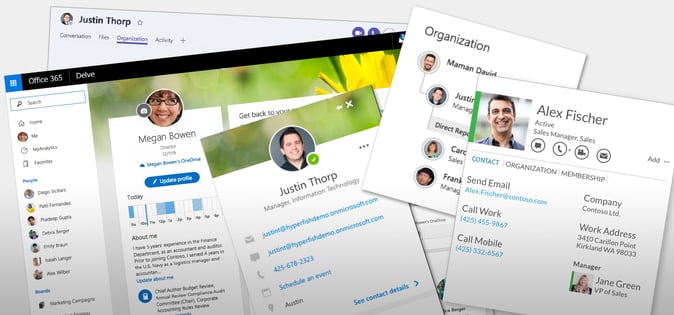 We have been privileged to work with two great companies, Shire and Henny Penny, and support their Office 365 rollout. Here are their journeys with Hyperfish:
Shire, a global biotechnology company focused on rare diseases and specialized conditions, saw the acquisition of Baxalta (including the addition of 17,000 staff) as the perfect opportunity to rollout Office 365 according to best practice. They delivered their global team a centralized place to find information, in the form of their SharePoint intranet "The Hub". Connecting the globally dispersed team was part of this, and up-to-date profile information accessible in the Hub and Delve allowed this, as confirmed by David Feldman - Associate Director Collaboration at Shire.

Henny Penny, a global supplier of innovative foodservice solutions was taking the next step in their rollout of Office 365, specifically SharePoint Online following their successful move to Exchange Online. The organization identified the key role that photos would play in the new user experience, as well as the challenges in getting photos across all applications. Henny Penny overcame these challenges by using Hyperfish and incorporating us in their onboarding process as Simon Swartz Infrastructure Support Analyst explained:

If you are considering the move to Office 365 or already experiencing the pain of photo silhouettes everywhere, get started with Hyperfish Lite for Free.