SharePoint has been around for over 15 years. Over time, SharePoint has ducked and weaved on its priority features. The product has had a new "SharePoint pie" every major release. As a result, workloads have been handed off into other engineering groups, including:
PowerBI for business intelligence
Delve for search
PowerApps for forms
Planner for project management
Microsoft Flow and Logic Apps for workflow
Some large features have had very little focus in years:
Internet facing content management
Records centre
Business connectivity services
Access services
An official support document from SharePoint 2013 highlights this in more detail.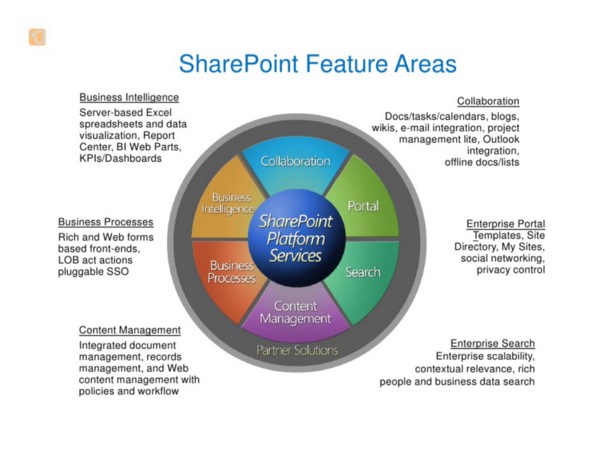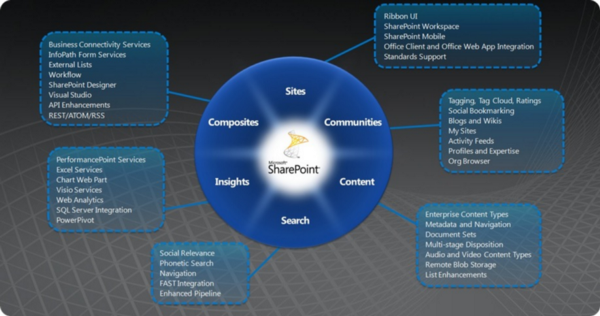 SharePoint pies of 2007 and 2010
This focusing has helped SharePoint. I've blogged in the past that SharePoint was the jack of all trades and master of none. It did a lot, but many companies started looking at best of breed products for key workloads. Microsoft knew it had to focus on its strongest workloads to compete against these.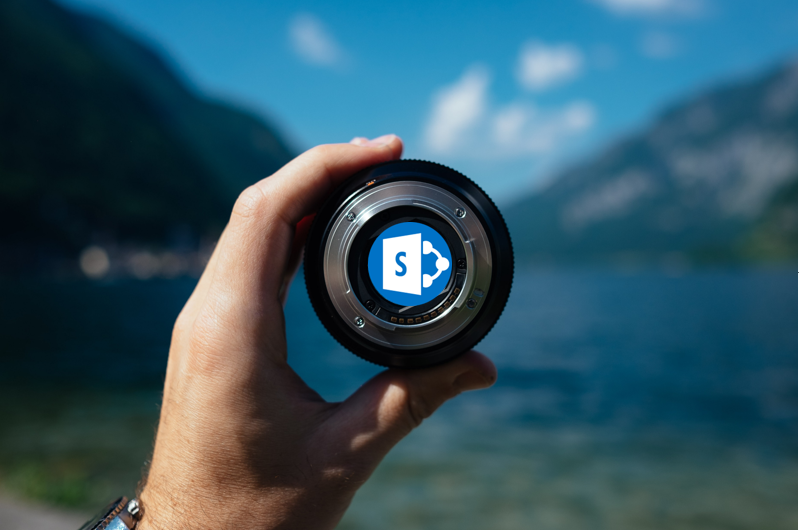 Focusing the lens is helping SharePoint
The Future
The Future of SharePoint event in May 2016 was a solid new direction for Microsoft. Jeff Teper who spoke at last week's at Nintex InspireX event, came back as Corporate Vice President of SharePoint/OneDrive in 2015. He joked one of the first things was to rename "Sites" to "SharePoint" in the Office 365 app launcher. It is clear the SharePoint brand is here to stay.
Jeff explained that the SharePoint Pie was evolving into the below key areas.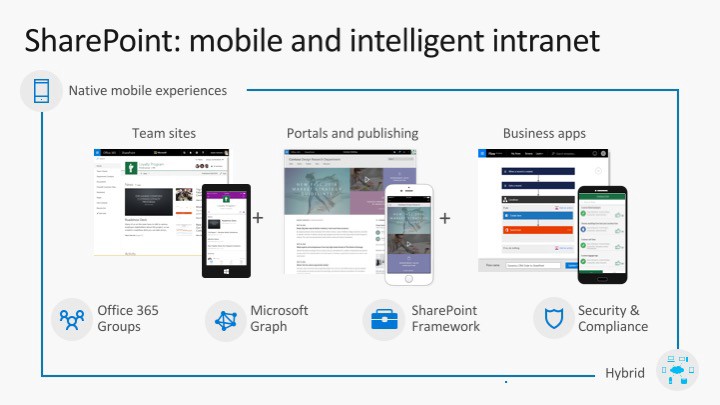 SharePoint: mobile and intelligent intranet
Jeff also illustrated how much has been achived in the last year.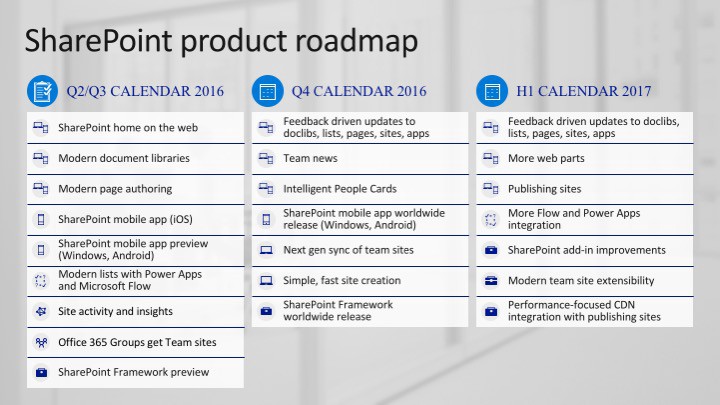 SharePoint product roadmap
Document Management
Team-based document management has been its major feature success. Best of breed products like DropBox, Box, and Google Drive have caused a world of headache for the team. The sync story for working locally on files in Office 365 has been poor over the last few years. In the last month, Microsoft announced dramatic changes to the sync features. I for one have really noticed the improvements on my Mac!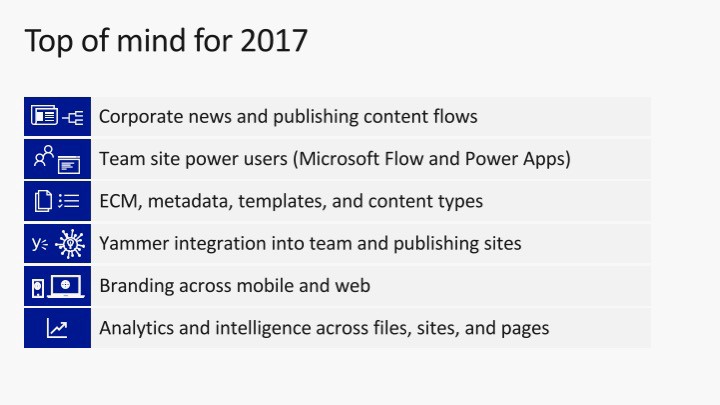 Top of mind for 2017
It took a significant amount of effort to get this done. The most exciting bit about this is those engineers are now moving on to new features. From the top of mind slide, it will be great to get some focus on metadata which has been stagnant for almost 6 years.
Intranet Portals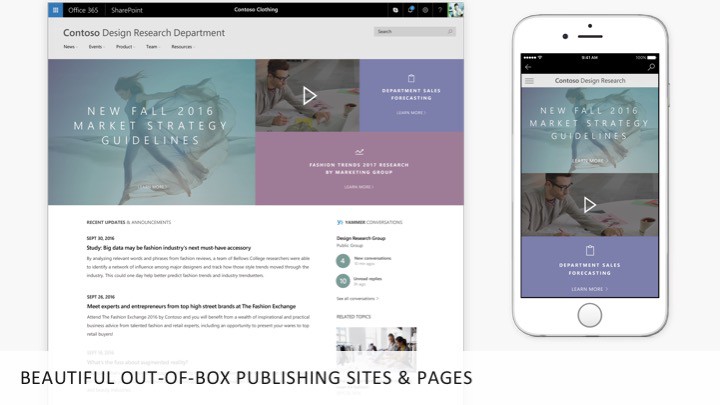 Beautiful out of the box sites and pages
Intranet portals has also been a major workload for SharePoint. It too has had a rocky ride. In his InspireX session, Jeff Teper was asked what the branding story for SharePoint is now. Many organizations customized SharePoint's look and feel through Master Pages. The move to the cloud led to Microsoft restricting how much customization is possible, but in its defense, many competitors do not allow this either. It will be interesting to see how much control they give with the branding features coming in 2017.
Jeff made it very clear, mentioning my "this versus that" post, that SharePoint is used no matter what collaboration product you use.
Intranet in your pocket
The most obvious new focus is "your Intranet in your pocket". The SharePoint mobile app is available on major platforms. The app is very easy to use on your smart phone, for consumption and also creation. It is not just for documents, but for other content types like List items and News. I've been using it at Hyperfish and found it useful, although confusing with similar functionality in Delve and OneDrive apps.
News
News has been a part of Sites for a long time. Historically I've seen 3 or so posts when Sites first get created and then none after. I will be interested to see what features they add to encourage users to remain loyal to News. This seems like a big bet for SharePoint, especially for keeping sites sticky on web and mobile. I'm concerned it overlaps with Yammer's main use case of broad company communication.
SharePoint Framework
The SharePoint Framework is the fourth attempt at a developer story in SharePoint. This has caused a lot of concern among existing developers. It has also caused a lot of excitement being on a more modern web stack. This is a very bold move. They are close to releasing v1.0 according to Jeff Teper's statements last week.
It is simplistic compared to what the other models enabled developers to do. But the roadmap indicates that they'll get close for a lot of major use cases in the next few years.
A big hope of mine is that we see this framework used across Office 365. Imagine Web Parts being added to PowerBI dashboards, OneNote pages,and into Sway. Having a SharePoint modern page as the landing page to an Office 365 Group, not to mention Web Parts for Microsoft Teams, Yammer and much more.
Challenges ahead
Upgrading
Its no big surprise that not everyone is on SharePoint Online yet. Its also no big surprise that everyone is not on SharePoint Server 2016. Microsoft need to focus on building features that drive people to upgrade. The very first SharePoint 2016 release was more of a baseline to SharePoint Online. There were few features that made it worth upgrading for end users. With the upcoming Feature Packs, more new features that benefit end users will drive this. The challenge will be on how they balance what features they keep in SharePoint Online and which ones they push down to SharePoint Server.
Partners
A big part of SharePoint's success is the partner ecosystem. Software companies sold products built on top of SharePoint. Professional services companies charged many hours for customizing SharePoint to companies' demands. Many partners will hold back and let others take the first risky steps into this new space. Many have built on previous models and have been left with no option other than to rewrite.
Wrap Up
The SharePoint team is doing a great job of being transparent in their direction. The roadmap is aggressive and the upcoming features will keep SharePoint ahead, while competition will keep Microsoft hungry. The last year has really proved they are back on track.
References