Companies large and small are focusing their energy on continually improving their digital workplace. Their company intranet portal is a key landing place for all employees every morning when they log into their laptop or PC at their desk. Business drivers for a successful intranet portal span from an easy way to keep employees informed of internal news, making them feel part of the organizations' successes, and promoting upcoming events.
I asked a few leaders in the "Intranet in a box" space what they thought made intranet portals successful. Michal Pisarek from Bonzai Intranet, Hannah Unsworth from Unily, Juan Lrios from Powell365, and Sébastien Levert from Valo.
---
"Owners of the intranet are always looking at ways to keep employees coming back and making it more "sticky". This requires not just fresh content on a daily/weekly basis but also content that is personalized to them. More importantly that it removes any content that is not relevant to them that is treated as noise." Michal Pisarek, Bonzai
Michal Pisarek, Director of Product at Bonzai, shared with me some screenshots below that demonstrates Bonzai's Intranet solution personalizing news, events, and important organizational messages targeted to specific employees.

---
"For our enterprise clients, good personalization and targeting functionality is fundamental to the success of an intranet platform. It's the difference between being able to engage every employee through a single platform or keeping intranets and knowledge siloed." Hannah Unsworth, Unily
Hannah Unsworth, Senior Consultant from Unily discussed with me, that in Office 365 every employee has a rich profile, synced with Azure AD, which includes location information, department, job title, language preferences, skills, and more. Content Managers can then PUSH particular content to groups of employees based on this metadata, very easily within the Content Management System. This means someone who works in Sales in New York can see completely different content and in a different language on the homepage, compared to someone who works in Manufacturing in Hong Kong. Employees can also PULL information they want to see by personalizing the topics they're interested in. This then prioritizes content across the intranet based on what they'd like to see.
Commonly we see our customers approach this in three different ways depending on what works for their culture.
They either start with targeted content and then introduce the option for employees to personalize content themselves later on.
They launch the intranet with both targeting and personalized content options.
They designate certain areas of the homepage to reflect different types of targeted content e.g. global news, local news, my news.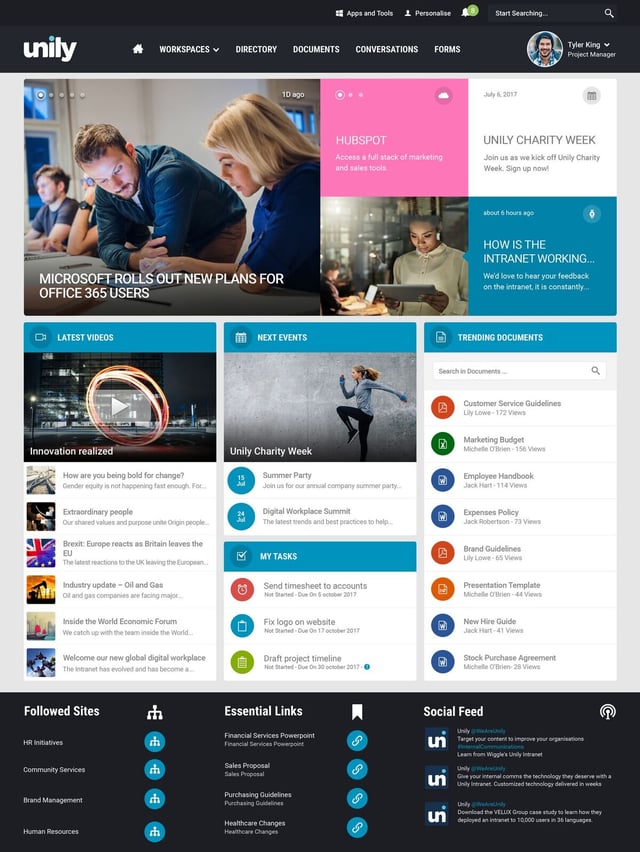 ---
Today, company employees are overhelmed with information all day from different sources. It is important to provide a tool that can aggregate and curate the content to provide the right information at the right time to the right people. It also important to let the employee define what is important information for them." Juan Lorios, Powell365
In my conversation with Juan Lorios from Powell365, he explained the different levels of personlization for Intranets that are built on top of Office 365:
Security – the architecture is based on search queries. This allows every result to pass through the security configurations in Office365/SharePoint Online. When users interact with their intranet, they will only see content they have access to see. Part of personalization is simply only seeing content that you have access to see.
Preferences – allowing users to select preferences that are saved at the individual user experience. An organization might want to broadcast Events or News articles from multiple different sources (i.e. departments, projects). Users can select what they specifically want to see on their intranet. This allows organizations to have control over their main landing areas while still giving users some control over the content they want to see.
User Profile Sensitive – Part of the SharePoint Search architecture is that you can read user profile preferences, properties like Language, Department, Office, etc. This allows the configuration of queries that can match content based on these user profile properties.
In Powell 365, each web part added to the page has preference settings to allow users to personalize their content, like department news.
---
"Users want information that is targeted to keep their homepage relevant and communicators want to keep their users fully engaged. Providing global and local news, events, alerts and links helps get things done, but providing them in the context of the logged in user is key to your digital workplace adoption. We've seen tremendous increase in the success of Valo deployments when content is tailored and curated with the user in mind." Sébastien Levert, Valo
Sebastian Levert, Product Evangelist and Partner Manager at Valo Intranet discussed with me that organizations who are presenting content to specific groups of collaborators, content authors will get better insights on the produced content. That insight can help produce better (more specific, more personal, more relevant) content based on the targeted audience. It will also lead to a better feedback loop, improving the organization's overall quality of communication.
In some of Valo's recent customer cases, including Enerflex and Dexcom, they realized that personalization of content was critical due their multi-location reality and proved this personalized communication strategy was not possible before the deployment of an intranet as their central communication platform.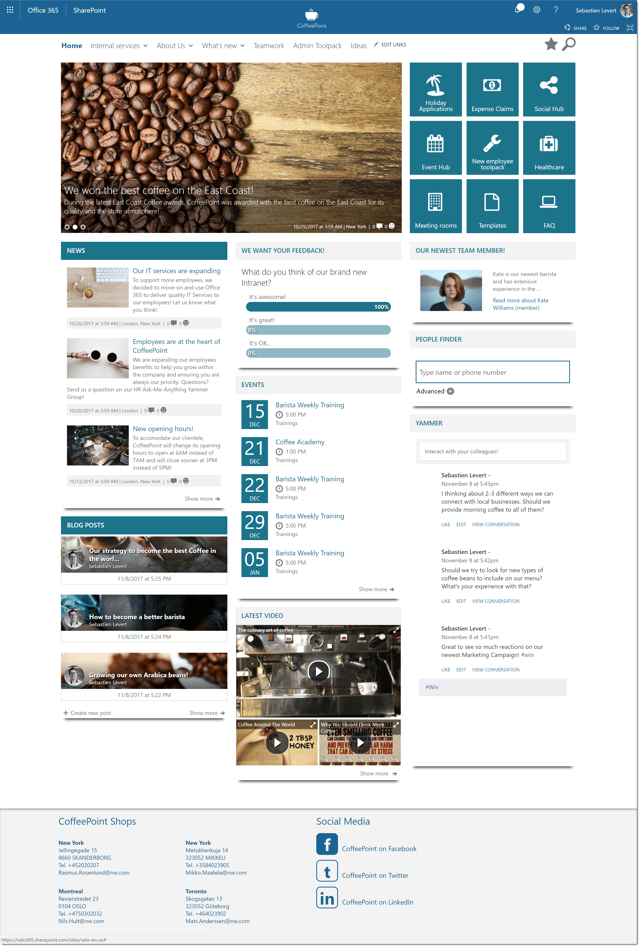 ---
Intranets will continue to evolve as employees become more mobile. The experiences will be delivered differently on both the desktop and mobile experiences. In some cases these experiences will be out of the box with SharePoint Online, but in most cases customers will have to go the extra mile with additional software from vendors like Bonzai Intranet, Valo, Unily and Powell365.
It has been clear from lessons learnt in SharePoint 2010 and 2013, that building your own from scratch rather than buying software is a thing of the past. These "intranet in a box" solutions accelerate the intranet portal development and save many hours of developer cycles on things that have already been built to sophisticated feature levels.
To achieve personalization across your digital workplace, accurate employee data is key. Without up-to-date employee information including department, region, office location, you cannot achieve the targeted content to drive the success of your intranet portal.

Hyperfish Premium helps you collect all this information off your users in a streamlined way. You can get started Hyperfish Lite for free - to collect and manage your employee's Office 365 profile photos.