Our own VP of Product Technology Jeremy Thake had the honor and privilege to guest present at Microsoft Build 2017 with Yina Arenas, Principal Program Manager Lead, Microsoft Graph and Office Extensibility API.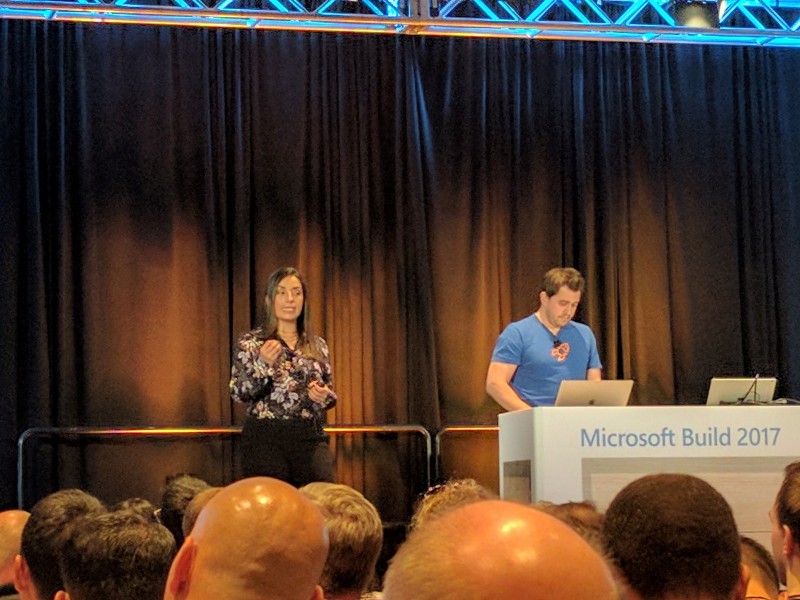 Yina Arenas and Jeremy Thake on stage at Microsoft Build (Image courtesy of Vincent Biret)
In Yina's jam-packed session "Microsoft Graph: Build better apps with the API to your organization" she demonstrated how to leverage the Microsoft Graph API to pull data from Office 365 and other Microsoft cloud services to power your business and productivity applications.
In Jeremy's feature he explains how Hyperfish uses the Graph heavily in delivering complete and up-to-date People Profiles. Specifically we make use of the Graph in our analysis of Active Directory (AD) and Azure Active Directory (AAD), as well as delta queries to streamline the analysis of changes in AD/AAD. Jeremy also demonstrates how Hyperfish uses the Microsoft Bot framework to allow users to update their profile through email and Skype for Business exchanges. The demonstration also features our use of Microsoft's Cognitive Services API to ensure profile photos meets company standard before saving to AD/AAD.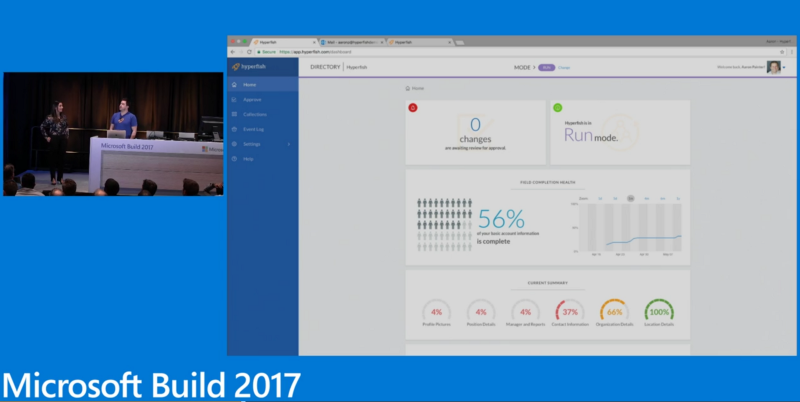 Jeremy demonstrating how Hyperfish utilizes the Graph
Across the session Yina explains how the Graph drives productivity through providing access to data across Microsoft SharePoint, OneDrive, Outlook, Exchange, Azure Active Directory, OneNote, Excel, Planner, Intune and more. See also spells out how multifaceted the Graph is, allowing data to be pulled about People (Reports, Manager, Organization, Groups), Content (Documents, Email, Events, Calendar, Tasks, Meetings, Sites, Contacts) and deliver Insights into the activity and trends across all of aforementioned data. You can read about all the announcements in this Dev Center blog.
See Jeremy in action as well as the full session on Channel 9 at the below link:
In our latest Podcast you can hear directly from Jeremy and Hyperfish CTO Chris Johnson as they take you through the Build announcements and translate them for business users.
Next Up… SharePoint Fest Denver
The next opportunity to see Hyperfish in person will be at SharePoint Fest Denver, May 30th - June 2nd at the Colorado Convention Center.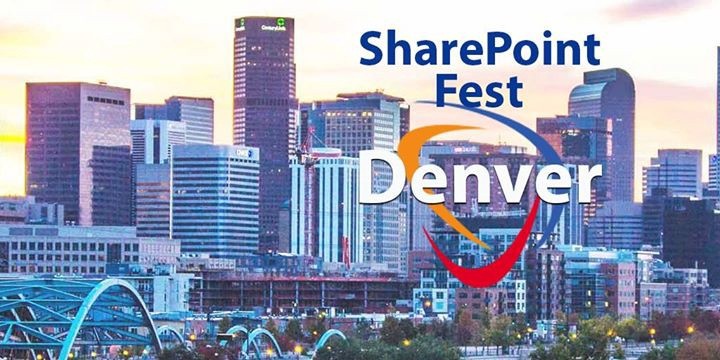 Hyperfish are excited to be platinum sponsor of SharePoint Fest Denver, a conference that delivers over 100 expert SharePoint and Office 365 focused sessions and workshops by Microsoft Certified Trainers, Microsoft engineers, and Microsoft MCM's and MVPs.
3 ways you can engage with us at SharePoint Fest Denver are:
Visit us at booth 42 for a live demo
Head to Chris Johnson, CTO of Hyperfish's session "An Introduction to Azure Functions for SharePoint/Office 365 developers"
Attend our Solution Showcase, delivered by Hyperfish VP of Sales Jakob Maciolek
We'd love to see you there!
Resources