Microsoft Stream is now generally available worldwide in Office 365. Organizations can take full advantage of an internal YouTube-like service for so many scenarios.
Scenario 1: Training videos
As a start up, at Hyperfish we are moving quickly, and we use video as a great way to get new recruits up to speed.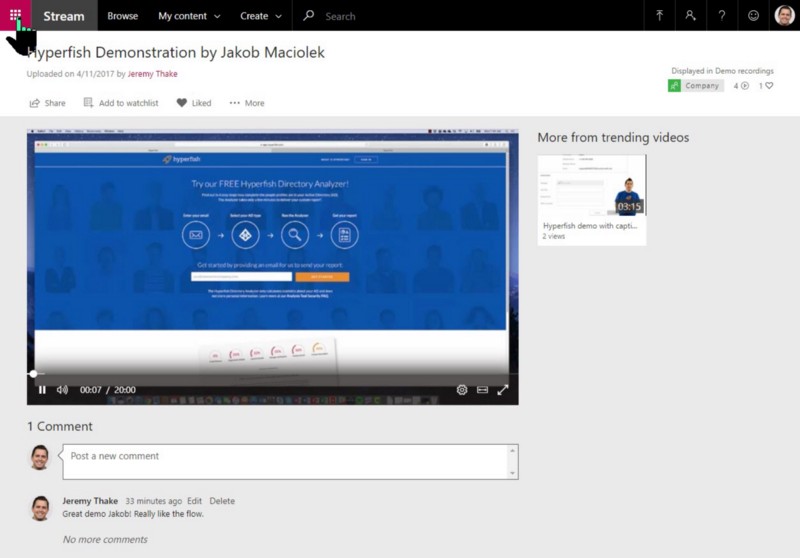 Producing videos has gotten very easy for the average user these days. There are no excuses not to be sharing video content. There are many free options for recording using smart phones and recording your desktop. I've personally used TechSmith's SnagIt for both taking snap shots of screens and also recording video with light editing. There are many options out there, but this by far is the best.
Scenario 2: The meeting time machine
At Hyperfish we have started using Stream as a place to publish Skype for Business meeting recordings.
With the premium features of Stream, uploaded videos will be transcribed, giving you an easy way to go back after the fact and find what was discussed by who through a timeline and search. This is a great way to keep people to their word in meetings ;-)
A Stream channel can be public for the entire organization, or locked down with permissions using an existing Active Directory security groups or Office 365 Groups. Allowing you to keep meetings with sensitive content only accessible to various groups in your organization.
What is exciting, is the future of bringing Skype for Business, Microsoft Teams and Microsoft Stream together. The demo in the Build 2017 day 1 keynote, showed how you can record a meeting and publish to Microsoft Stream. The screen shot below shows the integrated experience directly in Outlook!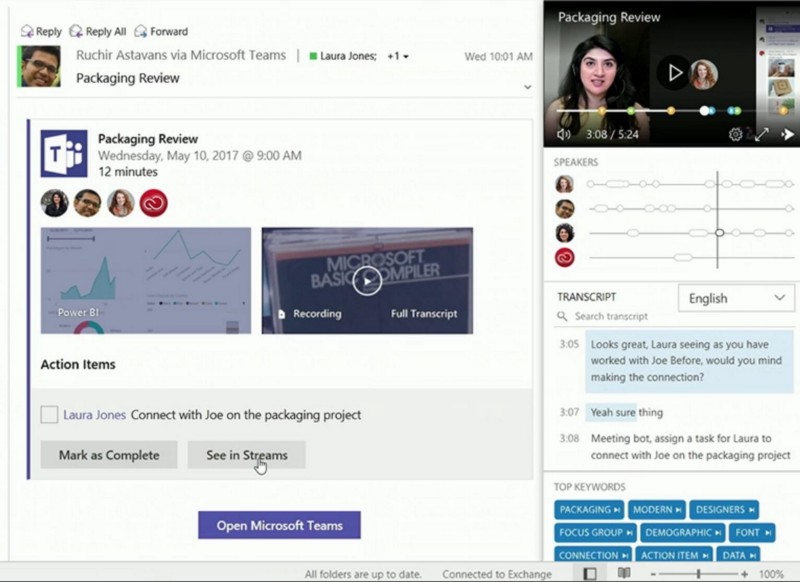 Outlook interface with built in Microsoft Stream transcript and time line support shown at Build 2017
Scenario 3: Messages from execs
For large organizations or geographically dispersed ones, feeling connected to your executive team is important. When I worked at Microsoft and at AvePoint, our executive team would record short videos on a regular basis to explain what was top of mind for them. This is a great medium compared to email, for all employees to get a feel for the executives personality and passion for the company.
A great feature of Microsoft Stream is the ability to add the video to a watch list. I personally do this with YouTube so that I can watch videos at a later date. Stream doesn't have mobile apps just yet, but this scenario is perfect for browser watching.
Hints before getting started
Licensing
If you are using Education or Enterprise plans of Office 365, Microsoft Stream is available for you now. Organizations receive a fixed allocation of 500 GB of storage and an additional 0.5 GB of storage per licensed user.
Right now, all Office 365 tenants get a 90 day free trial of the Microsoft Stream Premium license. Only the E5 plans get this bundled in. This enables the speech-to-text transcribed audio, linked time codes and face detection. Unfortunately, in my opinion, AI isn't ready to take over the world just yet. The transcription of my meetings are pretty much a garbled mess…although that might have something to do with my British/Australian/American accent.
Published videos
One thing that is not user friendly is when a user uploads a video; they get the email to say its processed, but it's actually in DRAFT. When they click the link, the title of the video doesn't say "DRAFT" but if they go to the channel the title includes DRAFT. To really publish, the user has to go to "More…" and "Edit" and push publish in bottom right. I hope they add a Publish button on video page for authors soon as this is confusing.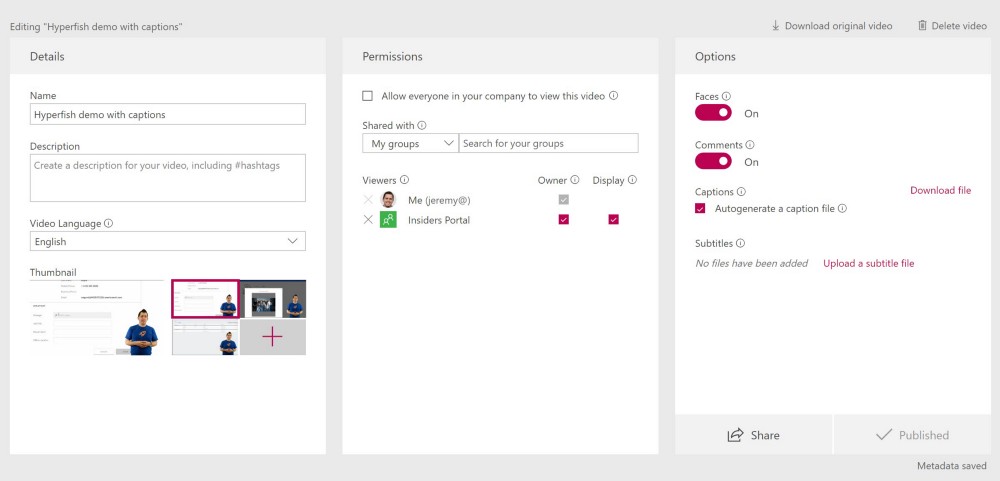 What about Office 365 Video?
Office 365 Video is a service that has been deprecated in Office 365 and Microsoft Stream is the replacement successor. Microsoft posted documentation explaining this transition. There will be various stages of opt-in to migrate all content from the retiring service to Stream which is good.
Discover-ability
One thing to note is that Microsoft Stream currently doesn't automatically create a channel for each Office 365 group. It also does not link to it from any user interface in other services (Files, Calendar, OneNote, Planner) that are part of a Office 365 group. Matt Wade discussed with me recently the need for communication plans and training on Office 365 services, so that organizations get the most out of Office 365.
The discovery of Microsoft Stream is really only from the Office 365 app launcher and once you are in Stream, the app launcher drop down doesn't work like other services. There is clearly a way to go before it has true integration, but this is what you get from cloud services that ship early and often, rather than waiting 3 years to be totally complete.
If you are not ready for your users to jump into Stream, there are documented ways to manage which users have access.
External user support
One big drawback for us is our ability to share video content with our partners. We have an Office 365 group with a SharePoint site where we share our marketing collateral that our partners can use. Unfortunately, Microsoft Stream does not support external users yet. There is also quite a bit of noise on the Stream forums about the ability to publicly host videos using this service too. I suspect this will eventually appear.
Data Sovereignty
As with many of these new services in Office 365, there are still some regions with concerns on where there data is stored. Microsoft has stated they plan to support other regions in the 'near future' outside of the US, Europe and Asia Pacific regions.
Treasure trove of content
There was a great Microsoft Stream AMA hosted in June, that includes customer questions and answers direct from the Microsoft team.
Wrap Up
Video is such a powerful medium for modern organizations, especially as the new graduates enter the workforce. Its part of your Office 365 subscription, so there is no excuse not to get going with this!