What are the differences between all Microsoft's group collaboration products?
Last week I wrote about how I believe Microsoft Teams is the new front end for team collaboration. In the post I touched on the differences between the user experiences that are available. I also promised a deeper dive into this hot topic and here it is.

Decisions for Office 365 team collaboration (Original Photo by 0Four)
Which product?
The big question I get from users from organizations I work with is…
"Which product do I use to work with my team?"
Jasper Oosterveld blogged last week also on collaboration overload.
"Imagine your organization makes use of Teams, Groups, SharePoint and Yammer. How are regular users going to find anything? Are you going to look in Teams? Yammer? SharePoint? Groups?" Jasper Oosterveld
I also have had the same concerns from users. People like to keep things simple. The acquisition of Yammer made the decision for users more complicated. Adding Groups in Outlook to Office 365 made this even more complex!

Check out the Hyperfish YouTube channel for more https://www.youtube.com/hyperfish
Alistair Pugin created a table comparing Yammer to Microsoft Teams and Slack. It is definitely worth a read. Adding Groups in Outlook & SharePoint Online to this table highlights the confusion more.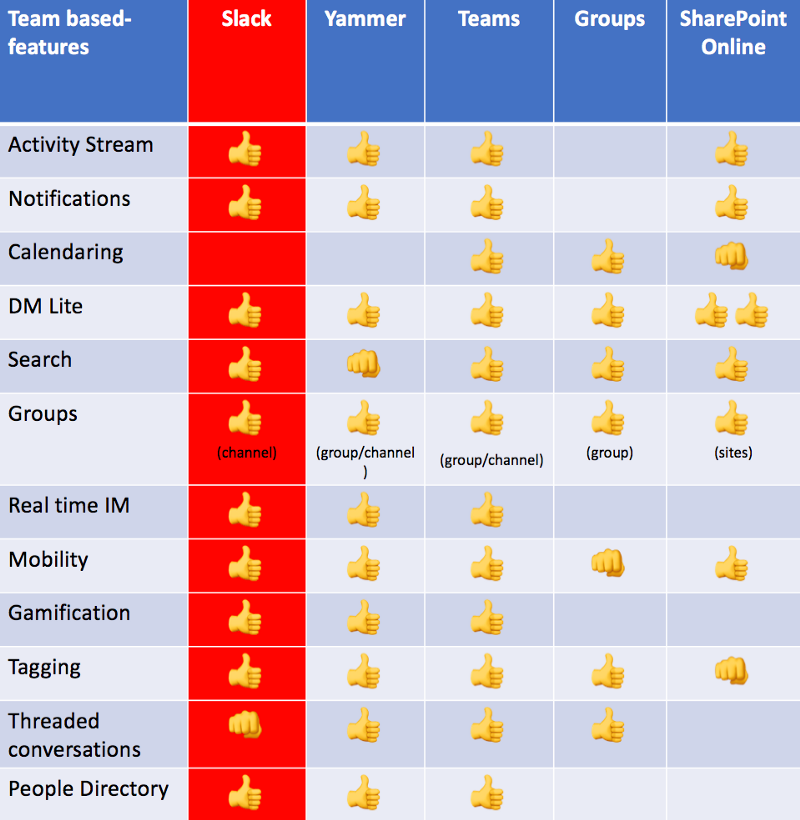 Table: Team based features comparison
Wictor Wilén made some great points in his post asking "Has Yammer played out its role?".
Microsoft's current stance seems to be:
Groups in Outlook - e-mail centric team collaboration
Microsoft Teams - small team light document collaboration competing with Slack
SharePoint Sites - large team advanced document collaboration
Yammer - company-wide collaboration competing with Workplace by Facebook
I've already made my predictions in the previous post. I am betting on Microsoft no longer being able to ship their engineering org charts. Microsoft will use Microsoft Teams as the front end for collaboration. Rather than splintering their own individual front ends for each engineering org.
One thing to clarify here. When I state Groups in Outlook, I refer to the front end experience of conversations inside Outlook. The core Office 365 Groups functionality creates some confusion in these pros and cons, because they all leverage this core in different ways (security, provisioning, UI hooks etc.).
The good, the bad and the downright ugly
Things are not clear cut. I mind mapped the pros & cons of Groups in Outlook, Microsoft Teams, SharePoint Sites, and Yammer. Here is the run down.
Groups in Outlook
Groups was introduced in 2015 by the Exchange team with integration with OneDrive for Business and OneDrive.
Pros
E-mail conversations. Everyone knows how to communicate via e-mail. This approach to conversations is an extension of distribution lists. But with more services wrapped around it.
In Outlook. Everyone has Outlook. So there is nothing else to install and people are familiar with it.
Azure AD Groups. The membership is an AD Group. This means that it can be used for security membership to any system that supports it. This allows Group Owners to manage membership without having to use AD management snap-ins.
Connectors. The connectors allow 3rd party systems to integrate with conversations. For instance, when a new Salesforce opportunity is created, create a new conversation. Then the group can have a conversation about the opportunity.
Cons
Basic files experience. Groups does support OneDrive for business features with sync. But it does not include advanced features of SharePoint Document libraries. This includes versioning, views, metadata, and workflow.
No Groups Directory. The Exchange engineering team built this (so it is no surprise). But it is a few clicks within the interface. There is no Groups directory as a landing page.
Mac support. No Group support in Outlook for Mac. [UPDATE Feb 2018: Supported now in Outlook for Mac]
All or nothing. With Groups you can't disable or swap out files, notebooks, plans with alternatives. You can totally switch it off as John White explains.

Go listen to the Hyperfish Podcast for more info…
Microsoft Teams
Microsoft Teams was introduced in Preview in November 2016 and will be generally available by end of Q1 2017.
Pros
Real-time. The conversation platform is Skype for Business, which people are already familiar with. You can instant message one on one and replace the Skype for Business client. You can also instant message with the members of a Team and this is saved for later discovery.
Multi-platform app. The Microsoft Teams app is available for Windows, macOS, iOS and Android. IT has all the features of the web version on teams.microsoft.com too.
Keeping up. The activity view in Teams makes it simple to see all individual and team conversations you have.
Channels. Channels are a great way to have sub topic conversations with a smaller group of users without creating a new Team.
Tabs. With the tab extensibility, users can add a tab for other services on a as needs basis. If you are using third-party services like Trello for tasks, it's easy to add that instead of Planner.
Chat bots. If you are reading any tech news right now, you will see it's all about chat bots. Teams is the only way to have a conversation with a bot in a group mode.
Connectors. (see Groups in Outlook)
Cons
Preview. It is still in preview and there seems to be some bugs in the user interface. [UPDATE Mar 2017: generally available now]
2500 member limit. Right now, there is a limit. I suspect at some point you'll be able to create a team and have your whole organization in it though. [Updated at General Availability from original 600 number] [Updated Oct 17 from 999 to 2500].
External users for Office 365 accounts only. Office 365 Groups has the capability to add external users from any account type. I'm sure its only a matter of time.
Skype calls have 250 member limit. 250 is quite a large number and at this point its more of a broadcast than collaboration. It's more of a convenience thing that you can spin up a call to the team and let people join if they chose.
Basic administration. The administration needs to get a whole lot more granular for key scenarios.
No permalinks. There is no ability to use a URL to jump to a conversation thread in Teams. This will be frustrating when you want to reference other conversations in e-mail and instant message.
No e-discovery. At general availability, it will have C level compliance.
Basic files experience. (see Groups in Outlook) You can add SharePoint document libraries as a tab though.
SharePoint Sites
SharePoint launched in 2001 and evolved into a cloud service in 2013.
Pros
Pages. The ability to create pages with custom layouts and add web parts has always been the major strength.
Advanced Files. With files in SharePoint, users can have metadata, content types, and custom views.
Custom Lists. Custom lists give an easy way of managing data for users. It strengths are item level metadata, versioning, security, and workflow. The custom views, Flow, and PowerApp integration is also compelling.
On-premises. SharePoint is the only option here for on-premises customers.
SharePoint ecosystem. There have been companies building on top of SharePoint since it launched. Companies continue to focus here because of the user base. This allows you to speed up custom Sites by bolting in add-on solutions.
Cons
Too late. SharePoint had a head start on all the others here. It had the opportunity to be the front-end for team collaboration. SharePoint is very file orientated and the split with OneDrive for Business has muddied the waters on what is left for SharePoint if files are within OneDrive for Business. Only time will tell how they make this clearer for users.
Keeping up. The SharePoint Home launched in 2016, as a way to show activity across Sites in SharePoint Online. It only shows you the latest few documents, not list items etc. It is hard to keep up with activity in SharePoint.
UI innovation. It will be compelling once the SharePoint Framework can replace all the functionality of the existing page model. For the next year or two, expect innovation to continue to be slow as things port to the new Framework.
SharePoint membership. The legacy that held SharePoint back has hurt it along the way. One of the biggest was the fact that membership to SharePoint Groups is not directly tied to Active Directory Groups. you can nest AD groups to SharePoint Groups, but the controls to prevent owners of Sites managing security with users directly meant they lost the controls at AD level.
No conversations. SharePoint Newsfeeds were deprecated. You can embed Yammer web part into a SharePoint page.
Yammer
Yammer was founded in 2008 and Microsoft acquired it in 2012 for $1.2B. Yammer has spent the last few years integrating with Microsoft Office 365 platform. This integration included:
single sign on with Azure Active Directory
OneDrive for attachment support
Yammer SharePoint classic web part
management interface
data center support
compliance support
All these features were filling gaps and not innovating in new areas. There is no mind-blowing feature that makes it stand out against the competition.
Pros
Social network. The strength of Yammer is that it is a Facebook clone for internal organizations. There are over 1.8B people who use Facebook on a daily basis. They are familiar with how to use it to engage with others in their personal life. Adoption time to use Yammer is easier because of this.
Entire organization. Yammer is centered around the entire organization. This is the main difference to the other products mentioned above as they have limits to numbers of members. Posts can go out from ANY individual and everyone can see these posts and like and respond to them. You can create Groups that are public or private for specific users.
Tagging. The topic tagging capability on conversations helps users find conversations by keywords.
Polls. You can create polls to get feedback in a structured way.
Cons
Keeping up. The Yammer company feed and group feeds become active with lots of conversations. It is hard trying to keep up with conversations to make sure when you are mentioned you respond; or that you help in areas where you are a subject matter expert. The Inbox is the only real way to even attempt this. The mark all as read to help with clean up in bulk is finally there! The Inbox does not have any filtered views you can configure to help triage this.
Controls. The openness of Yammer often scares organizations who do not want users to be able to post for everyone to see. There is still no ability for a user to flag/report a thread much like other social networks.
Search. Yammer struggles to help users find information. The search is the biggest complaint I get from users in organizations.
Yammer Groups. Much like SharePoint Groups, you cannot manage membership with AD groups. Yammer was a standalone, non-Microsoft orientated product before it was acquired. So Yammer users can be added to groups but can't be managed with AD groups. This raises a lot of concerns with security of department Yammer Groups that have to be managed separately to typically controlled AD groups.
Cons across Office 365
Single pane of glass. Each of these has its own front end interface. Teams is the closest to being able to incorporate them all. For users, they don't want to have to think about which product they are working in.
Keeping up. There is no real way of keeping up to date in one experience. Users will continue to lose their minds trying to find information they created. Let alone that of others!
Search. Much like keeping up, if you can't search in one place across all these product it really will be frustrating for users.
Wrap Up
As you can see from these pros and cons, it's not that straight forward. It will certainly get easier once Microsoft make it clearer the direction they are going in. I hope my predictions are correct around Microsoft Teams. Only time will tell. Whilst we wait, I hope this is useful. If you have other considerations, please leave comments below.
Profile information is key part of the user experiences across all these products. Hyperfish Lite automatically collects and manages Office 365 profile photos for free. Get it today!