While you read this, you most likely have Microsoft Outlook open in a separate window right now. It is your most used application in your life. I'm confident you are not using it to its full potential. These five productivity tips will help you be a rock star at work!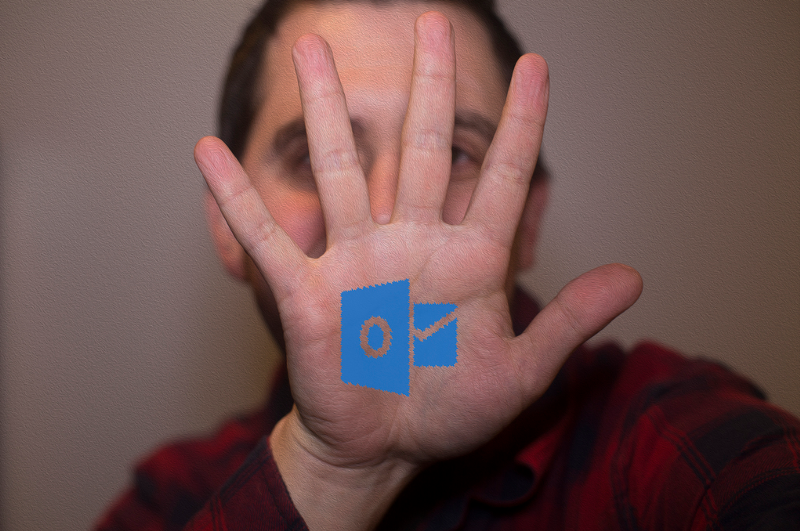 Start using Outlook to its full potential
1. Archive button
Do you try and keep your inbox clean by triaging emails? Do you delete emails you find irrelevant but worried about needing them later?
I have run inbox zero for as long as I can remember now. Part of the inbox zero methodology is moving emails quickly. One thing I have found very useful is a quick way to move emails. I don't file the email to a particular folder, primarily because I don't want to create a convoluted folder structure. But I do want it moved out of my inbox and not deleted.
The Archive button allows me to do this in Outlook quickly on the desktop, web, and mobile. This allows me to have these emails appear when I perform searches, unlike if I deleted the email.
I love the swiping left in Outlook mobile to archive emails too. Its so easy to triage emails on the go with this feature.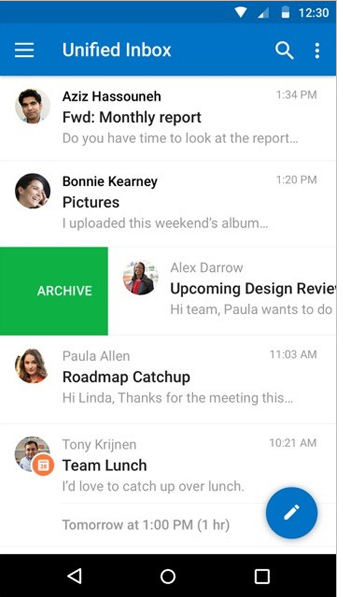 Archive using Outlook on Mobile
2. Contact card
Do you often find yourself looking up a contact on Delve to find out who they are? Or hunting their contact information in their email signature?
With the influx of emails you get day to day. Having context of the sender is critical. The contact card shows you key information. The most useful being the photo, organization chart, job title, department, and office location. If you have Skype for Business running, you can also see if they are available for a chat, or even schedule a meeting.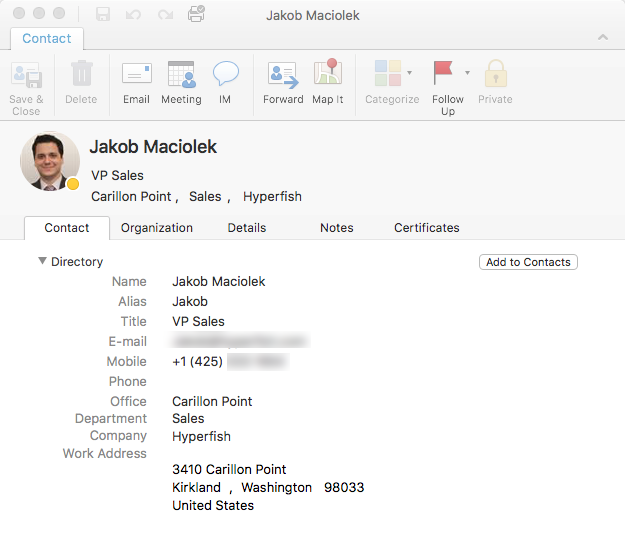 Contact card on Outlook for Mac
3. FindTime add-in
Do you try and schedule meetings frequently? With people in your organization with calendars that don't have an opening for four weeks? With people external to your organization with no visibility to their calendar?
Well Microsoft FindTime is the Outlook add-in for you! The add-in looks at your calendar (and those in your org you want to invite) and lets you pick from free slots. It then sends emails to the people you invite and let them tell you which works for them. The great part is, it'll send the options to external users too! Once there are enough votes, it'll even pick the best time and send out the meeting invite.
Go to https://findtime.microsoft.com/ and get started today.
FindTime takes the pain out of scheduling meetings
4. Boomerang add-in
Do you struggle to keep up with which emails you've received a response to? Do you try to flag sent emails to keep up?
Originally I used the follow up flag in Outlook on emails that I wanted to ensure I got a response from. The problem was, often I would forget to unflag the email if I did get a response back. Here is where the Boomerang add-in comes in. Boomerang allows you to return the email to the top of your inbox if nobody responds within a set time.
Boomerang also allows you to schedule when an email is sent. Great if you want your boss to get your email right as he sits down in the morning.
Ensure you get responses using Boomerang
5. Delve MyAnalytics add-in
Are you intrigued by what other emails you have from the email sender? Often wonder how efficient you are at responding?
I've talked about Delve Analytics in a previous posts. There is a MyAnalytics add-in for Outlook that you can launch from the top Home group tab. It will show you how many unread emails you have from the sender of the email. You can even click through to see all of the unread emails. The add-in shows your average response time to that sender too. Additionally, you can mark them as Important people, so they show up in your Delve MyAnalytics dashboard.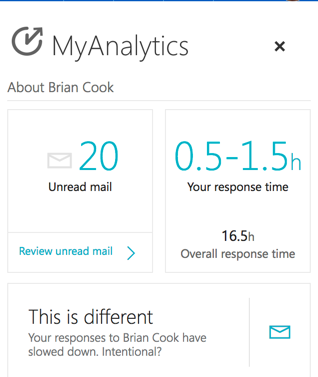 I need to up my game responding to my CEO ;-)
Wrap up - update Outlook!
The nice bit about all these tips is they will work in the web version of Outlook and also the desktop version on Windows and macOS.
If you are not already using Outlook 2016, it's time to take advantage of your organization's license. Navigate to https://portal.office365.com and click "Install Office 2016" as its part of your license.
You will also want to install Outlook for Android or iOS. It is significantly better than the default mail and calendar apps.
What Outlook tips do you have that you'd like to share?