At Microsoft Ignite this year, we announced the release of the Hyperfish Integration Framework. Using the Hyperfish Integration Framework, organizations can analyze, collect, and update missing profile information across almost any structured data source, automating the process of keeping profile information complete and up-to-date.
Less than 2 months following this release, Provoke Solutions (Provoke) have successfully rolled out their own "Connector" to the Integration Framework, enabling Hyperfish to manage profile information in their HRIS system. Evan Gits, HR Manager and Ivan Sued, Lead Developer joined Jeremy Thake on the Hyperfish Podcast to discuss.
In this blog we share their experience in developing on the Integration Framework and what other information they plan on managing outside of Active Directory (AD) with Hyperfish.
The challenge
Provoke, an IT consultancy was founded back in 2001 in Wellington, New Zealand. In past few years Provoke has expanded its team and reach outside of New Zealand to open an international office in Bellevue, Washington.
Provoke are known for crafting software solutions that drive business change and tangible business outcomes. Like many of their customer solutions, Provoke's own HRIS "Project Control" is a bespoke system built to suit their individual business needs. Project Control acts not only as Provoke's HRIS but underlies their employee performance framework, as well as their project management, timesheet forecasting, and invoicing. As a consulting business where the people are the lifeblood, Provoke have always had a strong focus on the wellbeing of their staff.
"Employee welfare is top priority in the business and keeping profile information is key to this." Evan Gits, HR Manager at Provoke Solutions.
Following the recent spikes in earthquakes in New Zealand, many businesses across the country, including Provoke, evaluated and reassessed how pertinent information like emergency contacts were being managed and kept up to date. Provoke identified that the collection of employee personal information was very time intensive, with the responsibility falling on HR and the management team to manually collect and follow up team members. In spite of the fact that some people information was being updated in Active Directory, Project Control was stand alone and the information was often getting stale.
For Provoke they wanted a more efficient way of keeping employee health and well-being information accurate, so that in the event of an emergency they would be able to reach out to both staff directly or their emergency contact.
The process
As an existing customer and partner of Hyperfish, Provoke were aware of the capability and extensibility of Hyperfish and saw the opportunity of using the Integration Framework to achieve ongoing accuracy of their employee emergency information.
Following requirements gathering, Ivan Sued, Lead Developer at Provoke was selected to head up the development of the Connector to integrate Project Control with Hyperfish. Ivan admits it didn't take long before things fitted into place and Project Control and Hyperfish started naturally speaking with each other. The Connector was built using Visual Studio 2017 to create a console application/library that integrates with the Hyperfish software development kit (SDK). In speaking about building on the Integration Framework Ivan stated, "it's was actually fairly self-explanatory once the interfaces needed to implement are in place".
One of the challenges in the project was that Provoke were using different employee identifiers than those default in Hyperfish. Ivan explains that this was overcome by grabbing the identifier/UPN that was coming from Hyperfish and through Active Directory mapping this to SAM ID, then mapping this back to Project Control.
In the podcast, Jeremy Thake expands on capability of the Integration Framework noting the ability to connect straight to the data using REST or SOAP APIs to call whatever data source you like.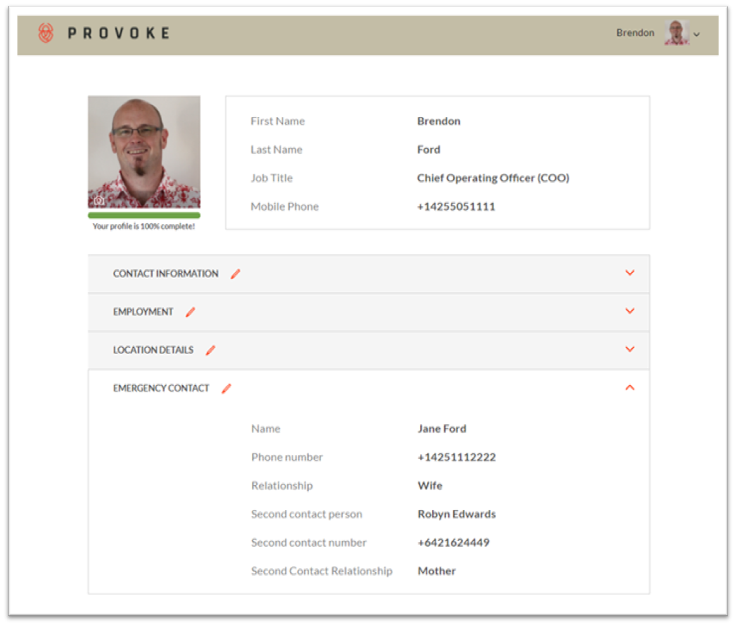 The results
Critical to the project success was first understanding the problem and getting right team together. All up the elapsed time for delivery of the project was 4-5 weeks including testing before rolling into production. Of the 4-5 weeks, the development effort from start to finish (including upskilling) was only 5 days. Provoke feels that next Connector they build will be much quicker now they have the required skills.
"The connector tool has helped us ensure that the information in Active Directory is now captured in Project Control, and it's up to date and current. So, it's really help us feel confident and trust that the information that we have in Project Control is up to date" stated Evan.
Evan sees this as a solution that "can be leveraged for any customer that wants to capture relevant up-to-date employee information, that ultimately starts with the employee entering that information; self-service and self-managed."
Evan advised that Provoke are making use of Hyperfish's approval functionality "as it's important to make sure any information added into our HRIS system is relevant and actually accurate". "As soon as information is entered, the relevant approvers get the notifications to approve or reject. It's as simple as reviewing it and clicking it, then the information gets pushed through" Evan explains.
What's next
Following the success of the Project Control and Hyperfish integration for employee emergency information, both Evan and Ivan discussed the additional use cases where Hyperfish can provide them business value.
Career Development
"Understanding the capability and the skills of our people is really important, as is what the business is doing to support them to achieve their goals and career aspiration", stated Evan. As such, "capturing certifications, courses, conferences attended are all examples where we can build out the employee profiles further", he can definitely see Hyperfish and the Integration Framework helping them achieve that. "As an individual being able to reflect and update what new skills you've developed and how you've grown is really motivating", he added.
One User Interface to up-date all systems
Evan has experienced firsthand the challenges of have multiple systems of records and not knowing where to go to input information such as personal information or timesheet entries. He sees the Integration Framework enabling the collection of information for disparate systems but from the employee point of view there would be a singular interface. Information will then be routed for approvals as needed and the system/s of record are then updated right away following approvals.
Get started yourself
The Integration Framework opens up the possibility to automatically collect and manage information from most structured data sources.
If you want to extend your Hyperfish service beyond AD but don't have the capability inhouse, please reach out to us.