This year's intranet awards from Nielsen Norman Group were announced just a few weeks back. The 400+ page 10 Best Intranets of 2018 report is the result of hundreds of hours of research from its three authors Kara Pernice, Amy Schade, and Patty Cade.
In addition to the comprehensive case studies on each of the 10 winners, the report provides insight into trends within the intranet industry. Notably there was a trend towards smaller internal intranet teams and at same time a shift towards engaging external expertise.
From our side this is no surprise given the rise and growth of the "intranet-in-a-box" industry. We were excited to see that 2 of the 10 winning intranets were built on Office 365 intranet-in-a-box solutions. In total 4 of the winners were built on Office 365/SharePoint Online and a further 2 were built on the on-premises SharePoint 2013. Making SharePoint the dominant intranet platform in this winning circle.
And the "in-a-box" winners are...
The two Office 365 intranet-in-a-box solutions that featured in the 10 winning Intranet designs are Bonzai Intranet & Elastic Intranet.
Bonzai was awarded for their responsive intranet platform that caters to nearly a 1000 strong workforce at Capital Power across their 24 Canadian and United States locations.
Elastic Intranet's winning solution was also for an energy sector company, PKP one of the largest energy companies in Poland. PKP selected Elastic Intranet for their solution's capability in connecting their 7000 geographically distributed employees.
Bonzai Intranet
There were two main goals that Capital Power established for their intranet redesign project:
Build a responsive intranet that allowed office and non-office workers access to the same great content and resources;
Select an intranet technology that could be ongoingly updated without fear of that upgrades would break their intranet.
Capital Power initially budgeted to bring in an agency to build the needed responsive page templates, custom features, custom web parts, and more, before finding Bonzai Intranet. After selecting Bonzai, the resulting project took just 4 months from kick-off meeting to completion and came in under budget.
"The Nielsen Norman award proves that intranet in-a-box solutions on SharePoint and Office 365 are not just an alternative, but an award-winning option. No customer has won a worldwide intranet design award built leveraging just SharePoint or Office 365 without massive customizations and add-ons," explains Michal Pisarek, 6-time Microsoft SharePoint MVP and Director of Product at Bonzai.
Bonzai's solution also delivered on goals to drive collaboration and enable self-service via the following features:
Quick links on homepage give users quick access to

self-service tools including time sheets, finding coworkers (people search), and submitting benefit claims.

Employee

Milestones

awards - this new feature was built to let employees learn more about each other. The page contains photos to celebrate milestones of employee service at the company along with offering a warm welcome to new employees. This page is a highly engaging part of the intranet and along with the Marketplace, is the third most-visited page on Capital Power's Bonzai intranet!
Search (including people search) is at top of every page, in addition a link to the employee directory is accessible from the top navigation of each page.
Comments have been enabled on many pages to encourage feedback and engagement with content. The commenting feature displays the name, picture, and role of the person commenting.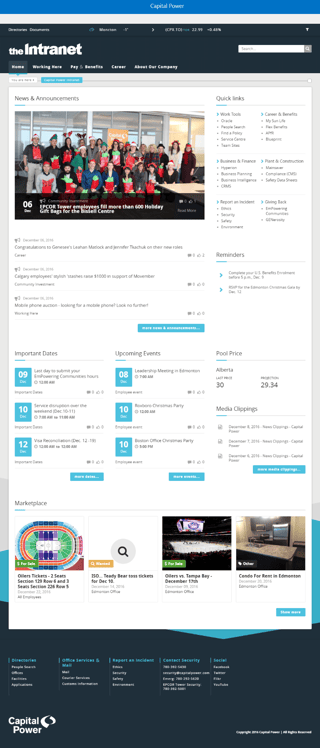 Elastic Intranet
For PKP, a successful intranet is one that is easy for all employees to use and beautiful. Their current corporate intranet was not meeting their expectations around improving communication and engaging their 7000 employees.
Like Capital Power, PKP began their intranet project looking for a solution provider to build them an intranet from scratch, but the complexities around this and the lengthy development time led them to investigate "in-a-box" offerings.
Elastic Intranet's capability to build quickly and encourage adoption, were two major factors of their selection by PKP.
The engagement and adoption goals set by PKP have been well achieved with 90% of staff using the intranet daily. This has allowed PKP to move much of its communications out of email and shared drives, while getting a better understanding of the content that's being consumed and desired by their employees.
Some of the intranet features contributing to these levels of employee engagement are:
Digital employee magazine. Elastic Intranet's internal publication feature helps in distributing digital magazines to more readers.
Apps menu appears on each intranet page giving easy access to daily tools including the address book, organizational chart, idea share, and discussion forums.
FAQ Page provides answers to common questions and details of the experts who answered the question, including name and picture.
Chatbots have been incorporated to deliver a conversational experience to filling out simple forms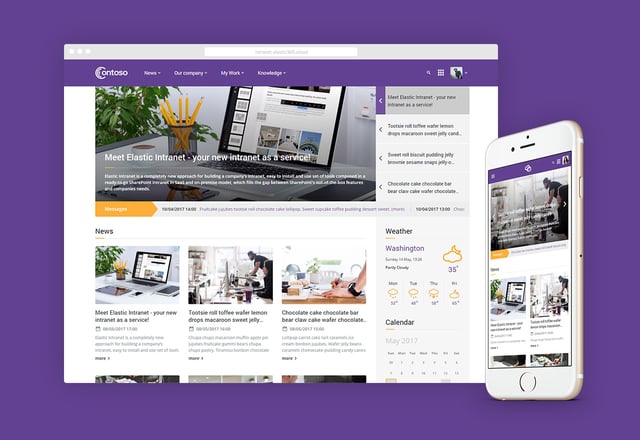 The trend toward "in-a-box" solutions
As indicated with PKP and Capital Power there has been a shift in the way customers approach their intranet projects, specifically a move away from custom-built solutions. As customer demand for these turnkey solutions has increased; the prevalence and maturity of these solutions has also increased. This is supported by the ClearBox consulting's SharePoint Intranet in-a-box report that has grown from 6, to 26 to 42 solutions across their 3 editions (2016-2018).
Sam Marshall, Owner of ClearBox Consulting recently joined us on Hyperfish podcast to discuss the 2018 edition of the report and the trends he is seeing in the Intranet market.

Reasons companies are choosing "buy" over "build"
For both Capital Power and PKP the reduced project timeline contributed to their decision to select a turnkey solution. While the average development time for all intranets surveyed for Nielsen Norman's report was 14 months, the two "in-a-box" solutions shaved months off this; with their total project timeframes at just 7 and 10 months.
Beyond shorter project times, we've heard from our own customers a bunch of reasons they choose to buy instead of building from scratch. Here's a list of a few:
Priorities change and the turnkey solutions provide a platform that is easy to extend

and modify iteratively, rather than in one fowl swoop

Enlisting external expertise

rather than hiring and retaining expertise in-house
Better price point and avoiding the cost of expensive customizations that also cause challenges for upgrades
Known support costs which assist with budgeting and defined response and resolutions times (SLAs)
Focus on simplification with sleek design and simple pages, over hard to manage and govern solutions
Auto-updates provide access to the latest technology and keeping the intranet fresh
Mobile responsive pages are standard in many of the offerings and needed for remote and non-office workers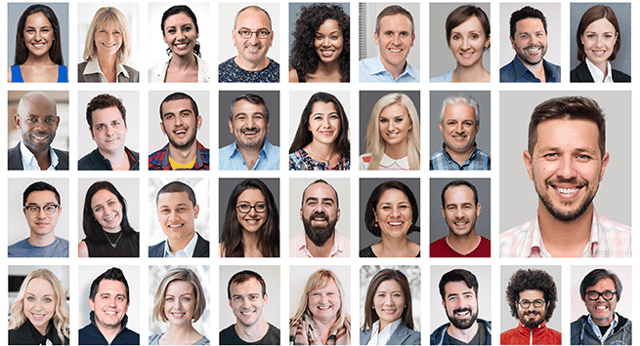 Employee photos are essential
A key trend that was identified by Nielsen Norman as part of their research is the prevalence of employee photos across all winners.
Unlike winners of year's past, the 2018 winners have made employee photos a key ingredient in their intranet design. A few reasons for this trend:
Social media's influence means employees don't want silhouettes and stock images next to their name

Employees want to be recognizable and contactable by their colleagues

Employees want recognition for their contributions and to build stronger networks
We've previously written about how photos are critical to success of your digital workplace and how profile photos enhance communication in the digital workplace.
For many organizations they understand the value of profile photos but struggle with the collection and ongoing maintenance of keeping them up to date. It's for this reason we created Hyperfish Lite, which allows you to collect all employee profile photos in Office 365 Free.
Want to get your own copies of these reports?