The 2018 global SharePoint and Office 365 survey, conducted by Hyperfish, LiveTiles, Sharegate and Nintex, has closed. For the third year running, we've asked hundreds of businesses about the ways they interact with Office 365. We've analyzed the results and discussed what we've found.
This blog will focus on the Modern SharePoint experience, and how Modern SharePoint has improved the SharePoint experience and driven adoption of Office 365.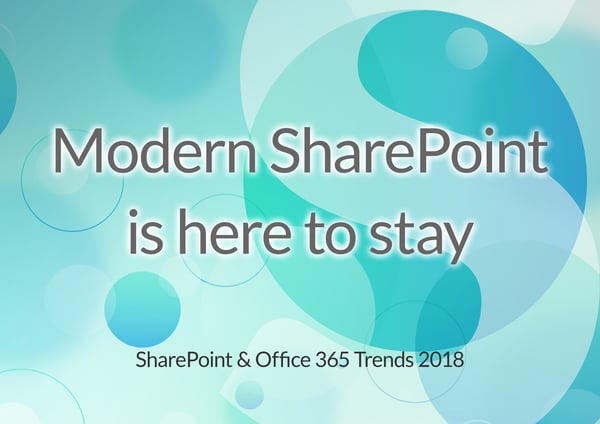 The rise of Modern SharePoint
Microsoft began rolling out new interfaces and features in SharePoint Online in July 2018. These 'Modern experiences' were designed to improve the classic interface that SharePoint has used since 2002. They included improvement to Team sites, Lists, and Libraries, Search, and more. Simplified UIs and new, more intelligent features have greatly improved the SharePoint Online experience. For example, users can pin documents to the top of SharePoint, edit documents without leaving SharePoint, and add files as links.
These features were exclusive to SharePoint Online until Microsoft announced that some features would be integrated into SharePoint Server 2019. SharePoint Server 2016, the last on-premises release of SharePoint, couldn't be updated with any of the Modern capabilities. But SharePoint Server 2019 will support a hybrid environment and will be much closer to the Modern SharePoint experience that SharePoint Online users have enjoyed.
Let's have a look at how SharePoint Online has grown.
SharePoint Online adoption
Overall, we found that 77% of businesses surveyed use SharePoint Online. However, only 12% of businesses that use SharePoint on-premises said they're planning to upgrade to SharePoint Server 2019 from SharePoint 2016. While SharePoint Server 2019 will support hybrid environments and will offer some Modern experiences, it won't be able to perform as well as SharePoint Online can or offer the same levels of flexibility and integration with Office 365. As per our survey, most businesses (77%) prefer SharePoint Online.
69% of the businesses we surveyed are leading the way by using Modern SharePoint. This shows us exactly how much Modern experiences have breathed life into the popular platform. The simplified and more attractive user experience has driven SharePoint adoption, and helped increased Office 365 adoption also.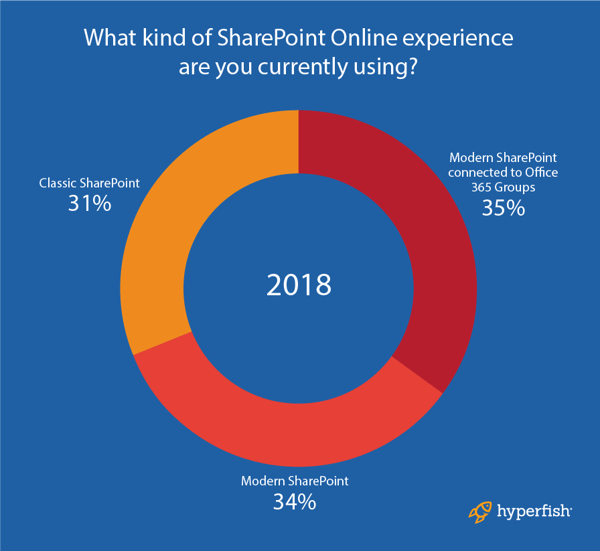 The updated UI and cloud-based integration that came with Modern experiences have only been available on SharePoint Online since they were introduced. However, Microsoft announced that some features of Modern experiences will be available in SharePoint Server 2019. Since features like Modern sites, pages, lists, and libraries make it easier for businesses to collaborate and communicate, it's no wonder they've been made available for on-premises software.
Modern SharePoint and company directories
We asked businesses how their workers look for contact information and were surprised to see that the number of workers who use SharePoint People Search has fallen from 44% to 37% between 2017 and 2018. Instead, the tactics workers are using are split between multiple apps and even manual paper solutions which greatly complicates the process.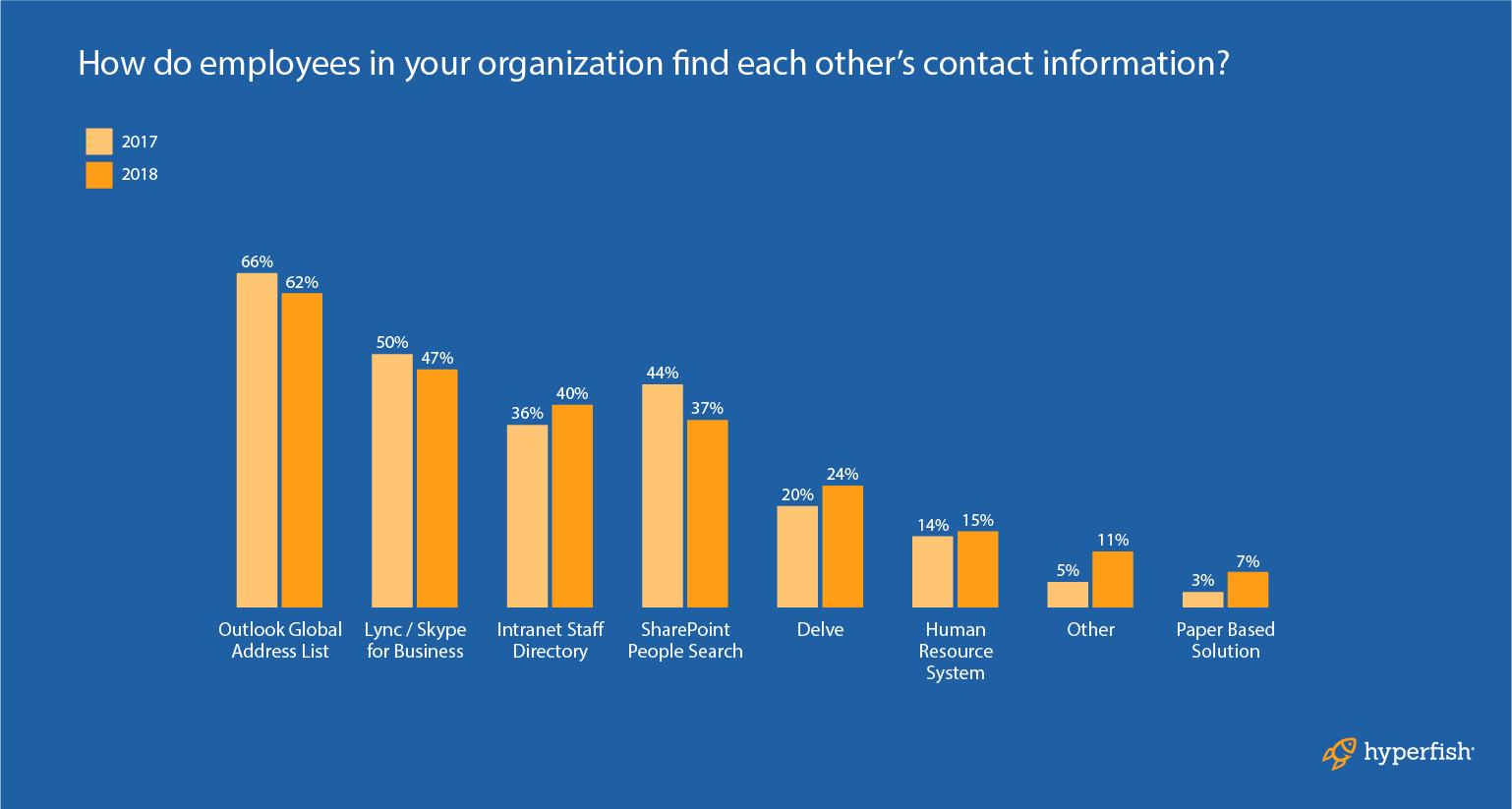 Office 365 is a highly collaborative environment that focuses on enabling teamwork between its users. With so many apps that workers can use, keeping track of personal information and profiles can be confusing, especially if that information isn't updated regularly.
SharePoint, and all the other apps in Office 365, are most effective when they're updated. That means company directories need to reflect current employee information consistently throughout different apps. This can be difficult to maintain – in fact, 42% of businesses' HR systems aren't used to update Active Directories, signaling a breakdown in communications between software.
Most businesses (27%) admitted to never evaluating the accuracy and completeness of user profiles in Active Directory and SharePoint. When businesses invest in Office 365 but fail to maintain their employee directory, they actively devalue their own investment.
How can you improve your employee information in Modern SharePoint?
While Modern SharePoint Sites are helping SharePoint Online adoption, the Office 365 platform is too big for SharePoint to be the sole repository of employee information. We can see from the graph above that valuable employee information is stored in a variety of places and not updated nearly enough.
Hyperfish can help companies increase employee engagement by regularly prompting workers to update their personal information. Using a combination of constant monitoring and regular updates, Hyperfish can help you improve the quality of your employee profiles across the entire Office 365 platform. A combination of AI and bot technology can automatically find missing employee information, reducing risk without any need for additional IT services. To maximize your investment in Office 365, you need to build the best quality Employee Directory you can – we can help you with that.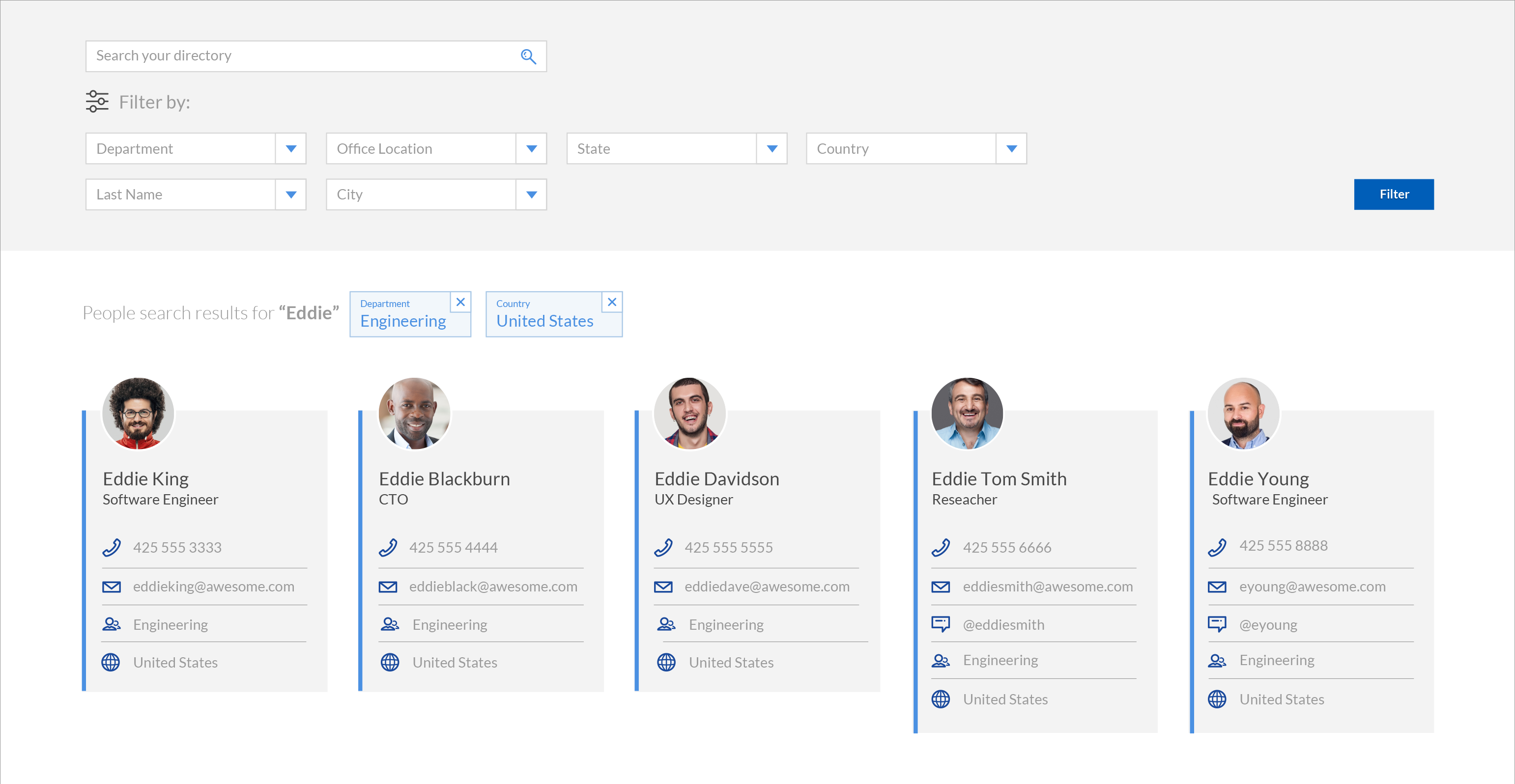 Find out how Hyperfish can help you get more value from your Office 365 investment and make your employee directories more effective and more compliant.