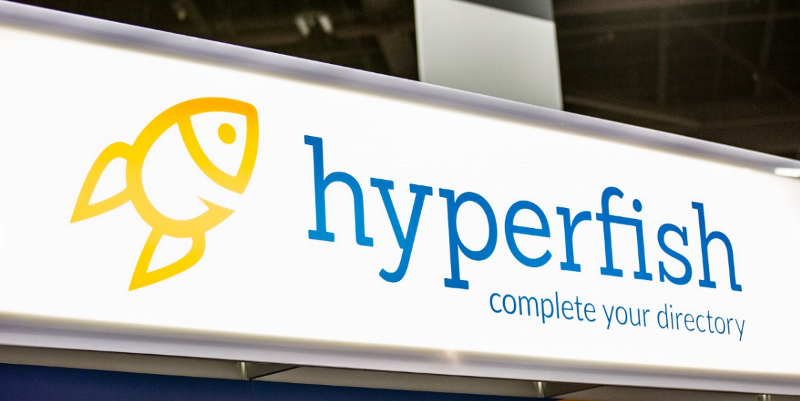 KIRKLAND, Wash., Sept. 26, 2016 /PRNewswire/—Hyperfish Inc, www.hyperfish.com, a Kirkland, Washington software company will officially launch its first product, Hyperfish for Active Directory, this week at the Microsoft Ignite conference in Atlanta, Georgia.
Hyperfish for Active Directory enables organizations to automatically identify, retrieve, and populate missing information in Active Directory (AD), quickly and easily. Using AI and Bot technology, Hyperfish automates the process of identifying what's incorrect within a directory and retrieving that information from end users. Hyperfish helps organizations reduce IT support costs, improve the quality of their communications, and accelerate key IT projects such as workflow automation. Hyperfish enables organizations get the most out of their Microsoft investment in Office 365, SharePoint, Skype for Business, and Delve.
Hyperfish, sold as an annual subscription, supports cloud, on premises, and hybrid installation of Active Directory. Also available is a free Active Directory Analysis tool to enable customers to assess the quality of their directory, and to understand the benefits of maintaining complete and up-to-date information.
Poor data quality in Active Directories is a widespread problem as experienced by Marc Anderson, Co-Founder and President of Sympraxis Consulting. "Every single client I work with has terrible data in AD, and they see it as such an insurmountable problem that they never fix it."
Hyperfish is the brainchild of Brian Cook, co-founder of global workflow software company Nintex and Chris Johnson, former Group Product Manager of the Office 365 team at Microsoft.
"We are excited to be launching at Microsoft Ignite, and bring to market a product that we hope will cure a major headache for thousands of organizations. Our team has spent countless hours with customers, partners, and Microsoft to solve an old problem in a very new way," said Brian Cook, CEO of Hyperfish.
Hyperfish is available exclusively through more than 30 launch partners, covering the United States, Canada, Australia and New Zealand.