Microsoft acquired LinkedIn in December 2016 for $26.2 billion. Back in December I wrote about what this acquisition could mean for Office 365. At Ignite 2017, Microsoft showcased the first wave of LinkedIn integrations in Office 365 both in Satya's keynote and a breakout by Cem Aykan and Jon Meling (BRK1062).
What's coming?
In the breakout session, Cem and Jon went into detail about the features coming out in the immediate future to First Release customers. The official microsoft announcement states it will be globally available in the browser products for all Office 365 customers in 2018. It will show up in Office desktop clients in coming months also.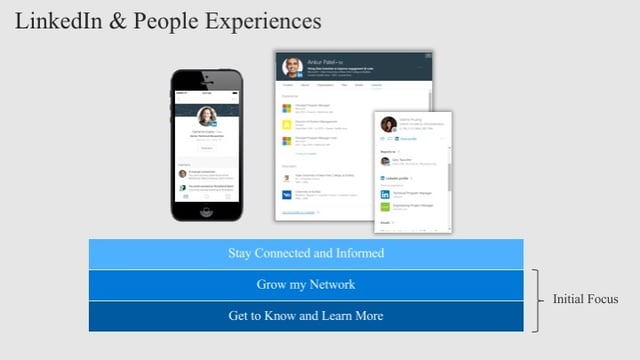 The main focus is on "grow my network" and "get to know and learn more". The main feature is that the LinkedIn tab will show in the people cards that are across Outlook, OneDrive, and SharePoint. These people cards will start to replace the people experience across Office 365 in the browser, desktop, and mobile clients.
As an example, when I'm emailing someone internally or externally in my organization, I can click on the person and see a people card. It will show me information from LinkedIn about that person. For now it seems the information will only be: mutual connections, education, and employment history. Cem did indicate that moving forward, more information will show but didn't indicate whether it would show LinkedIn articles, status updates, or group membership.
Privacy and Control
The main takeaway from the session is that Microsoft are being very proactive on the privacy and control concerns. I'm assuming these concerns were received in sharing this integration with their customers under NDA. Cem made it very clear that there will be Global Administrator controls to turn this off if needed and per-User controls to opt-in to this integration and opt-out at a later date (if you leave the organization).
From my previous post the biggest fear was organizations having access to all employees LinkedIn data. When a user opts-in to the integration, the organization cannot leverage the data, only the user can. What this means is that the organization can't go through the users' graph of connections i.e. internal recruiters won't be able to connect to external people that their employees know.
It also can't start doing anything too scary, like predictive analysis on whether John Smith is looking to leave based on him connecting to employees from a competiting company or having LinkedIn message conversations with them.
Matching Users
There were lots of questions on how automated this would be. For those that remember the Outlook COM add-in called Xobni (Inbox spelt backwards), it provided similar information but struggled. The fact that most LinkedIn profiles are created using a personal email address not their work email address is a challenge. This leads to trouble with matching the email address you are communicating with to their LinkedIn profile. For example, there are plenty of Chris Johnson's in the world and AI can only go so far to take a guess on the right one...especially when there are eight that have worked at Microsoft before like our CTO. It appears that Microsoft is having the same challenges even with direct access to both the Microsoft and LinkedIn graphs.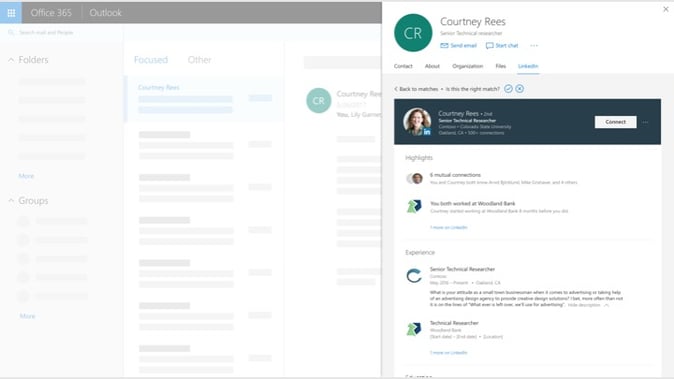 More people information at your finger tips
From our own product telemetry we are well aware that people information is missing or out-of-date in Office 365. For the end user, this really hinders their ability to:
get more context on the person you are collaborating with in Office 365;

find the right people based on their job role, expertise, department, office location; and
have suggestions of who to include in new projects/initiatives you own
The ability to augment whats in Office 365 profiles with what it can find on LinkedIn about the person can really improve your productivity.
I got a lot of feedback at our booth at Ignite this year from Office 365 customers that were excited about this integration. An example of this was a global consulting company, that has a combination of employees and external consultants, that wanted to make this information more easily accessible for finding and evaluating specialized consultants for upcoming projects.
What it doesn't fix
I am totally appreciative of the foundational engineering effort to get this done between the Microsoft and LinkedIn teams. Witnessing engineering teams try to bring product groups together was painful. Its great to see this achieved for people cards and the LinkedIn integration.
At Hyperfish, we are following along with this closely because anything to do with people information in Office 365 is important to us. Hyperfish helps keep your people information complete and up-to-date through our AI and chatbot technology. With our recent Integration Framework announcements in our Hyperfish Premium product, we now not only can analyze and update Active Directory (on-prem) and Azure Active Directory, but also other sources like WorkDay, SAP SuccessFactors, and PeopleSoft.
With the LinkedIn integration, people information is being presented as a tab in Office 365 contact cards. The source of this people information is stored in the LinkedIn Graph, not somewhere inside Office 365. The Active Directory (AD), Azure Active Directory (AAD) and SharePoint User Profiles issues of missing or out-of-date information aren't solved by this integration.
Office 365 will continue to read from AD/AAD for:
Outlook address book lookup;
Delve and SharePoint Enterprise people search;
Microsoft Flow manager

approvals;

Organization chart hierarchy; and
Contact cards across the experience.
So if you are having problems with missing or out-of-date profile information. Please take at look at our Hyperfish service.
What are you most excited for in the integration? Lets discuss in the comments below...