The Fabulous 40 video series, hosted by VP of Product Technology Dan Stoll (@_danstoll) interviews members of the Office 365 & SharePoint community. Dan delivers a rapid fire of 40 questions that let you get to know about that things that drive and inspire the leading minds in Office 365.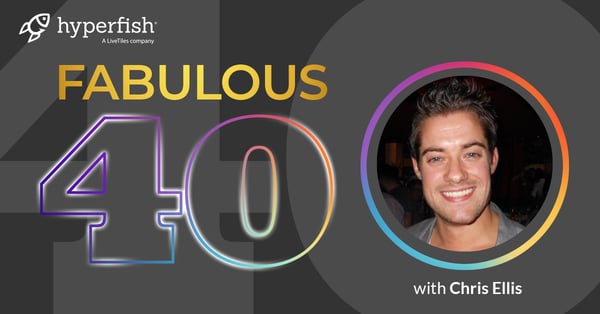 In episode 4 Dan grabs a burger with Chris Ellis (@ce1906) Manager, Technical Evangelism for Asia Pacific at Nintex.
Chris caught up with Dan before heading to Auckland for this year's Digital Workplace Conference. Chris explains how he started off his career in technology consulting specifically around SharePoint before focusing on process automation. Chris shares his tips on how to get up to speed on Nintex's workflow and process automation suite, and how you too can become a Nintex Hero.
Full Transcript
Dan: I reckon I might find a bloke in here. Just the bloke I thought I would find in a burger joint.
Chris: Hello, Dan, how you doing?
Dan: Hello, Chris. How are you doing, mate?
Chris: Good to see you.
Dan: Thought I'd ask you a few questions, how's that sound?
Chris: Sounds impromptu.
Dan: I don't know about that, but before you start smashing down on a burger, we better get into it.
Chris: Let's do it.
Dan: So how long you been in Melbourne for now?
Chris: I've been in Melbourne nine and a half years. Part of the furniture.
Dan: And what was the whole motivation to move to Australia from Scotland?
Chris: The weather. Nah, Scotland became a little bit too small for what I was looking to do. And broaden my horizons a bit, and I figured, you know, we'll jump to the other side of the world.
Dan: What's the top thing every visitor needs to know when they come to Melbourne?
Chris: Smash a good burger. But, no, I think Melbourne's pretty well known for its sports, for its hospitality, for its coffee. But one piece of advice would be: explore. Get out of Melbourne. You've got some amazing places on Melbourne's doorstep. So Red Hill, Healesville, Great Ocean Road, yeah, just get out and explore.
Dan: Give me your Nintex elevator pitch.
Chris: Nintex in the elevator. Nintex is the world's best process excellence platform. From beginning to end. From Promapp mapping management all the way through to best of breed workflow, forms mobility, content creation, robotic process automation, as well as analytics.
Dan: Alright, we're on the 10th floor now.
Chris: Nah, we're only at floor five, it's a slow elevator.
Dan: You've been at Nintex for more than three years now. What do you love about working there?
Chris: I still think the culture is my favorite thing. I love coming into work. I love the people that I work with. I love the value that it adds. Yeah, culturally, it's the greatest place I've ever worked.
Dan: What's your role there now?
Chris: I am the manager for Tech Evangelism, Asia-Pacific.
Dan: And what's the coolest part of that role?
Chris: Just seeing what Nintex can do for partners and customers. Get to sort help evangelize an awareness as well. Is a big part of it.
Dan: What's your most favorite place you've visited as part of your job?
Chris: There's a lot. Um, I still think probably the U.S. trips. Getting to go and actually spend some time in another continent is a big, big deal.
Dan: Yeah. And you've just come back from the Nintex world tour. Can you give me a bit of a high level of what that is?
Chris: Yeah, so we were in Singapore a couple of weeks ago. It's essentially, customer stories, partner stories and bit of product management on what's new, what's latest, what's greatest to anyone that wants to listen.
Dan: Can anyone attend?
Chris: Absolutely. Yep.
Dan: What's the best way of getting up to speed on Nintex and learning the platform?
Chris: Getting hands-on. Get a trial on Nintex.com and jump on learn.nintex.com and actually see what it can do for you quickly and easily.
Dan: Now, I've seen a bit of stuff around the social webs, what is this Nintex Hero all about?
Chris: The Nintex Hero, I think a lot of people probably think It's Brad (Orluk) in Lycra, but the Nintex Hero is actually someone within an organization that forms part of that Standard of Excellence that can help with awareness, enablement, and evangelism on the platform.
Dan: Right, so fair to say that anyone can be a Nintex Hero?
Chris: Yeah, anyone that's willing to learn and pick up something cool and new.
Dan: Are there any upcoming workshops you're offering?
Chris: We are looking at our next financial year a Solution in a Day activity. So, we going to let them run their course for the rest of the quarter and then we're going to pick that up next financial year.
Dan: Gotcha. So what's the newest product that Nintex has brought to market?
Chris: RPA. We made the acquisition of Foxtrot RPA.
Dan: And what's the most common business process you see companies automating with Nintex?
Chris: At the moment, it's pretty heavy HR Suite coming through from proof of concept trial stuff and bit of document management and collaboration as well.
Dan: Now, you had a long history of consulting, what was the fist thing you automated back in the day?
Chris: The fist thing I automated was a help desk tool for BP in Angola. It was a communication, essentially between some Aberdeen and U.S. based rig workers. And an Angolan Portuguese speaking help desk.
Dan: That sounds like it was a fair challenge.
Chris: It was. It was a blood pressure lowering in the end.
Dan: And what's been the most rewarding customer that you've helped.
Chris: I think a lot of them in the not-for-profit space. Where, what they can achieve with Nintex at very, very low cost is actually revolutionary to the people that they support in the community.
Dan: Right. Nintex acquired Promapp last year. What does everyone need to know about Promapp?
Chris: In a sentence, if you can't describe what you do as a process, you do not know what you are doing as a process. And Promapp goes a long way to helping.
Dan: Right. I keep seeing the term RPA in the Nintex marketing, for those who don't know what RPA is, can you just quickly, sort of, explain what that is?
Chris: Robotic Process Automation, so essentially, replacing the mundane tasks that a human does. Cut, paste, script this system to put into that system, legacy to clone, those sort of things. A bot can do for you. And we look to bring the bot technology into a larger workflow. So adding content creation, mobility, forms and doc gen into your RPA processes.
Dan: Right. Do you recall the first Microsoft conference you attended?
Chris: I do, it was with you.
Dan: And which one was that?
Chris: It was World Partner Conference 2010 in Orlando.
Dan: So you are one of the keynote speakers in Auckland next week. What are you speaking about there?
Chris: I'm talking about cognitive services and emotion in workflow.
Dan: And it looks like your burger is up, mate.
Chris: My burger is ready.
Dan: You better get up and grab that.
Chris: My second home.
Dan: That looks nice.
Chris: It does, doesn't it? There you go. For the (burger) blog.
Dan: How many digital workplace conferences have you been to?
Chris: I think this is my fifth between Australia and New Zealand.
Dan: Do you remember you first speaking gig?
Chris: I do. It was a Techspresso with Dimension Data in Brisbane.
Dan: How would you rate that first performance?
Chris: An 11. No! Well, all four people that turned up thought it was pretty good. So a solid seven.
Dan: Any public speaking tips?
Chris: Just have a good story. Have something compelling that people can take away. I think everyone that leaves there should learn at least one thing from what you present.
Dan: The Digital Workplace Conference has become a leading Office 365 conference in the region. Why do you think people should check it out?
Chris: I think no matter what your skillset and your exposure is, or where you are on your learning spectrum there's something for you at these conferences. Whether it's from the vendor breakout areas or the sessions themselves, there's a huge amount to actually learn and take back to your day job as well.
Dan: Yeah. And other than yourself, what others speakers do you think attendees should go and see?
Chris: Whatever you are into. I know I am going to check out Mark Rhodes' speech on public speaking. I'm also going to check out some of the bot sessions. I know Elaine van Bergen's doing a great bot session. Debbie Ireland's also got a session, unfortunately it's the same time as mine, but yeah, definitely checking them out.
Dan: Right. And Nintex is a sponsor, what can people come and see at your booth?
Chris: Everything. Absolutely everything. They can see how Nintex can help with what they're feeling the pain in in their organization.
Dan: Do you have any cool swag you're giving out this year?
Chris: I have to keep that one under wraps, but it's pretty cool. I think we've got a big give away as well.
Dan: Nice. Will you also be at the Sydney DWC later on this year?
Chris: If they'll have me. Unless I embarrass myself next week in New Zealand.
Dan: So any time for sightseeing?
Chris: Very little. I'm in Wellington actually the day before. So that will be my sort of little sightseeing.
Dan: Yeah. So what Office 365 app do you use for your own work?
Chris: We're using Teams a lot at the moment. Internal and external. It's a great place to share and collaborate.
Dan: You previously worked as a consultant, as a mentioned earlier, across that whole Microsoft Stack. What products, specifically, did you support?
Chris: SharePoint.
Dan: Just SharePoint?
Chris: No, I would do Windows server stuff. SQL. But predominantly SharePoint.
Dan: Right. Right. You did your Bachelor's degree in computer systems. Were you always interested in a career in tech?
Chris: I was not. I started on an architecture course in Uni and I realized I was terrible at drawing, so I went back to the drawing board. Figuratively speaking.
Dan: Any tech podcasts you recommend?
Chris: I haven't had much exposure to podcasts. But I'm still very much on the socials. I follow a lot of people on Twitter and LinkedIn and so on.
Dan: Right. What gadget are you loving right now other than your new car?
Chris: Other than new car, I'm looking at the thing that you forgot to bring with you which is your GoPro. And I'm looking at investing in that for our upcoming honeymoon. The Mrs. loves the Facebook shots.
Dan: And on that, you recently tied the knot, so congratulations.
Chris: Thank you.
Dan: Any wedding planning advice you can offer?
Chris: Happy wife, happy life.
Dan: Yeah, that's fair. Alright, mate. I'll let you get on to your burger. And I'm going to go find something to eat.
Chris: Alright, I look forward to smashing it. See ya.
Dan: Alright. Bye.
Get involved in the Fabulous 40
What are the SharePoint / Office 365 questions you are dying to have answered?
What Office 365 community member would you like us to interview next?
Let us know in the comments, or tweet us @Hyperfish