At Hyperfish we are passionate about employee profiles and the business benefits realized when profiles are complete and up-to-date. Profile information is consumed across numerous Microsoft products and services including Outlook, SharePoint, Delve, Yammer and Microsoft Teams but also in custom solutions such as the employee directory.
The employee directory is an important tool for everyone in an organization to find people and expertise quickly and easily. Complete and accurate employee directories lead to improved resource utilization and collaboration.
Build your own in Office 365 & SharePoint
We have received many requests from our customers, wanting to extend the out of box people search functionality in Microsoft products. It's for these reason we've collaborated with industry experts to bring you the definitive guide to building your own Employee Directory in Office 365 or SharePoint. What's more, it's absolutely free!
The guide brings together years of research, tips and best practice from Office 365 and SharePoint experts.


What's included in the guide:
The guide delivers over 60 pages of comprehesive content, taking you through the importance of the employee directory and instructions on how to build one in Office 365 or SharePoint.
Highlights of the Guide:
Detailed analysis on the out of the box people search functionality available in Outlook, Skype for Business, SharePoint, Delve, and Microsoft Teams;
Instructions on how to enhance People Search in both SharePoint Online and SharePoint on-premises;
Step by step instructions to build an employee directory in Office 365 or SharePoint with A-Z index navigation in as little as 15 minutes (as shown below).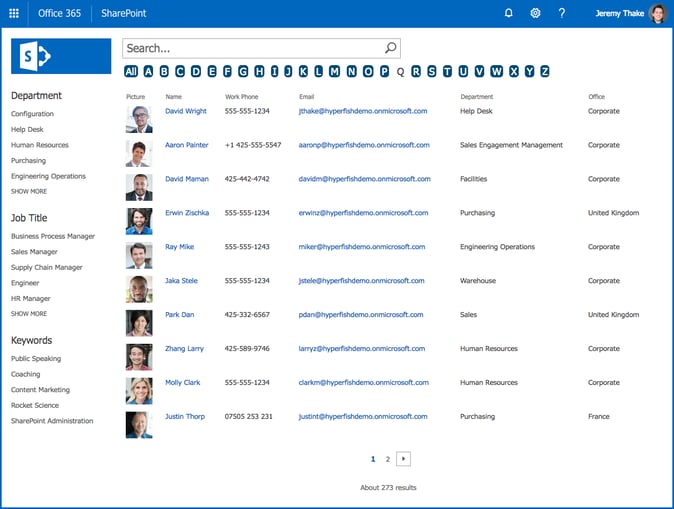 Huge thanks
We could not have put together this guide without the contributions and support of the following industry experts. Thanks to each of you for your input, guidance and tips for inclusion in the guide, as well as your ongoing contributions to the Office 365 and SharePoint community.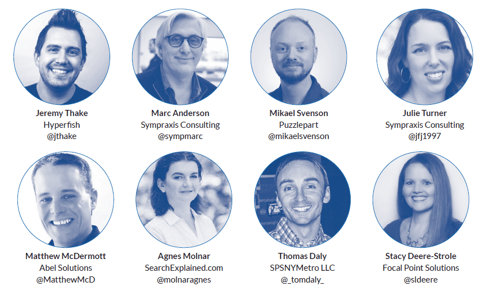 Find out more from Marc Anderson
Marc Anderson, Microsoft MVP and President at Sympraxis Consulting, speaks to Jeremy Thake on the Hyperfish podcast about his contributions to this guide. Marc discusses:

The collaboration process on the guide and employee directory solution

Why organizations want and need an employee directory solution above the default Microsoft People Search capabilities such as in SharePoint, Teams, and Delve.

What has been included in the Guide and why
Get yours today
The complete guide is available for you to download today and includes access to all the files to build your own employee directory. Don't wait, claim yours and start building today!